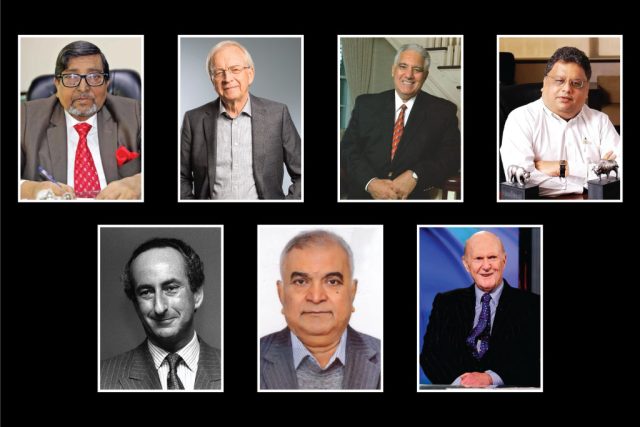 Profession: Former Chief Election Commissioner of Bangladesh
Born: February 13, 1942, | age 79 years | Purbadhala Upazila
Died: August 24, 2022, Dhaka, Bangladesh
Bangladeshi freedom fighter Mr. Mahbub taught Bengali Language and Literature at the University of Chittagong. Besides, he was the Assistant Press Secretary and speechwriter to the Father of the Nation, Bangabandhu Sheikh Mujibur Rahman. He was also recommended by a Search Committee headed by a Supreme Court Judge, and the President appointed him as an Election Commissioner. He has written 44 books, mainly on poetry and fiction. He received Bangla Academy's literature award in 2012.
Profession: Independent Director of Dhaka Stock Exchange
Born: 1952, | age 69 years | Bangladesh
Died: August 9, 2022, Dhaka, Bangladesh
Mr. Bahar was the former Economic Adviser of Bangladesh Bank and served as Agrani Bank Chair Professor at the Bangladesh Institute of Bank Management. The DSE Director also served as the Senior Economic Advisor to the Metropolitan Chamber of Commerce and Industries. Also, he was a member of the Board of Directors of the Investment Corporation of Bangladesh and Municipal Development Fund under the Ministry of Finance and the Steering Committee and Investment Committee of Bangladesh Bank.
Profession: Indian Billionare Business Magnate
Born: July 5, 1960, | age 61 years | Hyderabad, India
Died: August 14, 2022, Mumbai, India
Mr. Jhunjhunwala was one of the Co-founders of Akasa Air, India's newest budget-friendly airline. The veteran investor, often known as the 'Warren Buffet' of the Indian market, was reportedly unwell for some time. His net worth was around $5.8 billion. His most recent appearance was at the airline's launching, where he was seen in a wheelchair.
Profession: American Lawyer and Businessman
Born: January 1, 1940, | age 81 years | San Francisco, California, United States
Died: August 5, 2022
Mr. Alberg, popularly known as Tom Alberg, was a founder and managing partner of the venture capital firm Madrona Venture Group and a director of Amazon.com from 1996 to 2019. He has been a leader of Seattle's tech and business community for many years, starting his career advising Boeing, ATL, and other early tech companies, before playing a major role in the growth of McCaw Cellular and the wireless industry. In addition to investing in many high-tech startups, he was one of the earliest investors in Amazon.
Profession: American Billionaire & Philanthropist
Born: June 25, 1932, | age 90 years | Salisbury, North Carolina, United States
Died: August 23, 2022, Manhattan, New York, United States
Superstar trader Mr. Julian, who helped pioneer the modern-day hedge fund industry, has died at age 90. Born and raised in North Carolina, Robertson served two years in the Navy after graduating from UNC Chapel Hill. Robertson founded his highly successful Tiger Management in 1980 and ran it for 20 years.
Profession: British Businessman
Born: October 1938, | age 83 years | London, United Kingdom
Died: August 10, 2022
Mr. Halpern was the founder of Topshop and Chief Executive Officer of the Burton Group from 1979 to 1991. He was the most flamboyant member of a group of retail and property tycoons who flourished, and then mostly fell, during the 1980s when Margaret Thatcher was Prime Minister.
Profession: American Entrepreneur 
Born: May 12, 1943, | age 79 years| Atlantic City, New Jersey 
Died: August 12, 2022
Dr. Caruso was an innovative entrepreneur and visionary that built successful organizations by bringing together talented people that shared his passion for innovation. He started his career as a CPA at Price Waterhouse & Co in Philadelphia. He was the founder and Chairman of Integra LifeSciences and other companies. In 2006, he was named the Ernst and Young National Entrepreneur of the Year for the United States.
To read more Editorials, Please Click Here!