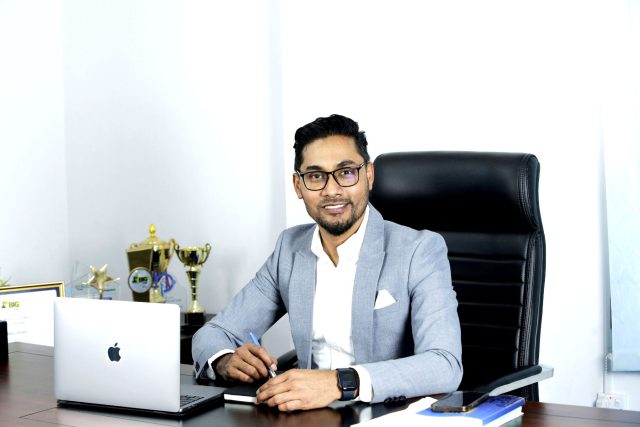 Cover Story of November 2023 Edition
Anowar Hossain
Founder & CEO
DocTime
Mr. Anowar Hossain stands out as a visionary in the rapidly developing field of digital healthcare, whose life story intertwines his rural upbringing, scholastic distinction, and unwavering dedication to transforming lives. As the Founder and CEO of DocTime, a groundbreaking healthcare platform, Anowar's journey reads like a gripping tale of determination and innovation.
Growing up in the tranquil countryside for his formative years, the move to bustling Dhaka for higher education marked a pivotal chapter in his life. Anowar's relentless dedication led to a Bachelor's degree in Computing and Information Systems from London Metropolitan University, where he not only graduated with distinction but also secured the top score in his region. His academic prowess earned him a full scholarship for his Master's degree, further igniting his passion for learning and innovation.
In the professional arena, Anowar Hossain's journey spans over 14 years, with a diverse array of experiences in the United Kingdom. From a software engineer, he ascended to managerial positions, covering an array of industries from e-commerce to fintech. Yet, his true calling beckoned when he realized the urgent need to revolutionize healthcare in his homeland, Bangladesh.
The motivation behind Anowar's ambitious venture, DocTime, is deeply personal. His own childhood experience with misdiagnosis and inadequate medical care served as a catalyst. In a country grappling with healthcare disparities, he envisioned a solution – accessible and affordable healthcare.
Launched in 2020, DocTime is the country's leading digital healthcare app, boasting 1.3 million downloads and an impressive 4.7-star rating on the Google Play store. It seamlessly links patients with over 1,300 doctors within minutes and offers a comprehensive range of services, including medicine delivery and diagnostic tests. What sets it apart is Anowar's unwavering commitment to bridging the healthcare gap. A remarkable 58% of DocTime's patients hail from rural areas, particularly women and children who often face barriers to medical care.
Anowar's journey as a founder and CEO epitomizes resilience and adaptability. From onboarding doctors to forging strategic partnerships with major players like Banglalink, he navigates challenges with tenacity. His vision extends beyond his company; it encompasses his commitment to transforming healthcare in Bangladesh and contributing to the nation's "Smart Bangladesh" agenda.
In a world where technology and healthcare converge, Anowar Hossain is more than a leader; he's a visionary reshaping healthcare's future in Bangladesh. His story inspires, proving that with education, innovation, and a relentless pursuit of positive impact, quality healthcare can become accessible to millions. Anowar Hossain is the beacon of hope, bringing the promise of healthcare within reach.
Cogitation of Work
The InCAP: Mr. Anowar Hossain, could you share some insights into your background and the driving force behind the inception of DocTime?
Mr. Anowar Hossain: I grew up in the countryside, where I spent the first 16 years of my life. Then I moved to Dhaka for my HSC. Initially, it was a stressful experience coming from a small village and living in a big city. After HSC, I earned a Bachelor's in Computing and Information Systems from London Metropolitan University, which was delivered through Daffodil in Bangladesh. Then I got a scholarship to do my masters at London Metropolitan University. After working in the UK for over 14 years at various startups, I thought it was time to do something for myself and my country.
In 2018, I started working on a project to provide accessible and affordable healthcare services to people. The motivation partly came from my personal experience. As a kid, I suffered a bone displacement in my hand. I was taken to a village doctor, who told me that it would heal itself over time. So, I did not come to Dhaka for further treatments. I still have that bone displaced.
This isn't just my experience. Mistakes in diagnosing and providing the wrong treatment are quite common. Many people, especially those in rural areas, often face misdiagnosis and incorrect medical care. In Bangladesh, getting good healthcare can be tough because there aren't enough skilled doctors, especially in remote areas.
In Dhaka, the challenge is different. Due to the large population of Dhaka, it is hard to consult a doctor at the hospital during the daytime. A doctor has to see a lot of patients, so patients often have to wait until the evening to see a doctor properly. This makes a lot of people unhappy, and they have concerns about it. Moreover, getting a doctor's appointment is not the end. Every appointment has a waiting time. Usually, you have to wait for a few hours in the doctor's chamber. Some platforms provide telemedicine services over the phone for minor health issues, but it is not enough.
After thinking a lot, we started DocTime to improve healthcare in a way that could be accessible and affordable for everyone. But in a country like Bangladesh, where there aren't enough doctors, it's a big challenge. We need more doctors, probably four times more than what we currently have, to ensure relatively quality healthcare for people. The number of doctors compared to the number of patients is really imbalanced. It is not possible to increase the number of doctors overnight.
We launched DocTime in 2020 to make healthcare truly accessible. You can book real-time appointments on our platform. Our core USP is that you can get a doctor's consultation anytime from anywhere without even booking a prior appointment and 80% of cases get connected to a doctor within 10 minutes maximum.
We are eager to know about the remarkable journey of your career.
I wanted a scholarship and fortunately got one from London Metropolitan University to study Information Systems Development for my master's degree. It was another new experience for me. This meant I had to go to a new country and city where I didn't know anyone. I found myself in a new country where I don't have any friends or family. I also had to find a part-time job to support myself. But I persevered and finished my degree in 2007 with distinction.
Right after submitting my final project in college, I jumped into the working world by joining a British company called "Reading Room" as a software engineer. I was eager to learn and didn't just want a safe job in a big IT company. I switched jobs a few times to increase my opportunities for learning and to grow faster.
I don't propose that others follow it; however, this was my philosophy back then. I always wanted to move fast in my career and grow. I worked in both technical roles as well as in managerial positions, where I managed teams.
I've gained diverse experience in the UK working with a range of startups. My background includes involvement in software development firms, government projects, marketing agencies, e-commerce, fintech, and the automotive industry. Throughout this journey, I've been instrumental in developing numerous scalable applications, progressing from initial development to architecture, design, and assuming technical leadership roles. After working for 14 years in the UK, I thought it was time to do something for myself and my country. In 2018, I began working on DocTime. I've already discussed more about DocTime earlier.
Could you provide an overview of DocTime and shed light on its potential impact on the Healthcare Industry?
Our primary service revolves around instant, 24-hour, and on-demand doctor consultations accessible from anywhere in the country. We offer a comprehensive suite of healthcare services, complementing doctor consultations, which include medicine delivery, in-home diagnostic tests, and subscription packages, including insurance, facilitated through our trusted partners. This means that all your healthcare needs can be conveniently met through a single platform. Patients can complete their entire healthcare cycle and access final reports to share with their doctors.
Remarkably, 58% of our patient base hails from rural areas, reflecting our significant impact on providing healthcare needs to approximately 230,000 patients. Access to healthcare, particularly for women and children, has historically been challenging, often requiring a male companion for medical visits. We're actively breaking down this barrier, empowering women to use the DocTime app for doctor consultations and medicine orders from the comfort of their homes. As a result, 54% of our overall patient base comprises women and children, underscoring our substantial impact in the healthcare sector.
DocTime's services cater to patients across all age groups, ranging from one-year-old infants to individuals over 70 years of age. The primary users of our app are tech-savvy young individuals with smartphones who use the platform for their own consultations and those of their family members, including children, fathers, mothers, and spouses. Many users also turn to our platform for managing non-communicable diseases (NCDs) such as diabetes, hypertension, asthma, and stress and anxiety. Notably, 10% of our patient base is aged 45 years and older.
In addition, major companies are showing support for digital healthcare to expand access. For instance, Banglalink has partnered with us, granting millions of their users access to our services. They have designated healthcare as one of their top four priority areas, which we fully manage. The integration has seen significant engagement and traction within the healthcare segment of their app, powered by DocTime. During the recent dengue outbreak, Banglalink provided free doctor consultations using DocTime through their MyBL app for dengue patients.
We've also developed B2B products that combine health insurance and are used by various organizations as part of their employee health and well-being initiatives. For as little as 200 taka per employee, employers can now offer comprehensive healthcare services, including doctor consultations, mental health services, insurance facilities, and a range of other healthcare services, to their employees and their families. Numerous organizations, including Robi, Banglalink, AB Bank, Amber IT, Creative IT, Banglalink, Coders Trust, 3A Industries, Cosmos Holidays, and many more, have already partnered with DocTime to provide these services to their employees and consumers at no cost.
In conclusion, the healthcare industry is undergoing significant transformation, and we are at the forefront of effecting change. People's acceptance and adaptability to digital healthcare are evolving rapidly. With approximately 600 patients served daily, our growing demand reaffirms our impact, and we are currently in the process of scaling our services to reach even more individuals.
In what aspects does DocTime distinguish itself from other healthcare platforms or organizations?
Our distinctiveness in the market is attributed to our exceptional quality of care, an extensive network of over 1,300 medical professionals, hundreds of integrated partners within our eco-system, and highly scalable operations and technology. The numbers speak for themselves, with 1.3 million app downloads and an impressive 4.7-star rating on the Play Store attesting to our excellence. People love using our platform for digital healthcare, making us the "people's champion" for both patients and doctors.
Our services are exceptionally accessible, offering options for video calls, audio calls (even for non-smartphones), physical booths, and health workers who bring healthcare right to your doorstep. We pride ourselves on connecting patients with doctors within a mere 10 minutes, 24 hours a day. Notably, we're the only company in Bangladesh and one of the very few in the world that offers a true "digitalized hospital at home" experience.
Our best-in-class technology empowers users to seamlessly search for the doctor they need, complete payments, receive consultations, obtain digital prescriptions, and order medicines with just a few clicks. In addition, users can conveniently request home diagnostic tests, comparing prices from top labs, all digitally connected, often without requiring human intervention. Everything is efficiently handled within the DocTime app.
Furthermore, we safeguard patient electronic health records, providing patients with access at their convenience. They can readily share these records with physical doctors and hospitals using a QR code whenever the need arises, ensuring seamless continuity of care.
As you navigated the path to establishing and expanding DocTime, what were the primary challenges you encountered?
Our journey has been challenging since the beginning. But I do not complain. Building a startup is never easy, and challenges are only natural. What is important is to keep going.
Our initial challenge revolved around onboarding doctors to our platform, resembling a classic "chicken and egg" scenario. Doctors were hesitant to join the platform without a patient base, and patients were reluctant to use the platform without available doctors. To overcome this, I reached out to my friends and family, successfully recruiting approximately 20 doctors before our public product launch.
Raising money remains a difficult challenge for Bangladeshi startups for various reasons. Although things have improved over the past years, for instance, several companies, including ShopUp and 10 Minutes Schools, have raised significant capital, but the number of people who are interested in investing in the Bangladesh market is still quite slim. So far, it has not been easy to raise capital.
A successful business has three pillars: quality, growth, and revenue. You cannot have all three at an early-stage company. Because if you focus too much on quality and revenue, your business will not grow. Investors look for growth. They want to see that you are on a fast-growing path and have strong traction. Investors want to see a strong team, an excellent product, and a fast-growing market that can grow bigger three to five years down the line before investing in a venture.
Educating people about DocTime has been a challenge. We have done a few interesting campaigns, such as the 10 Taka Campaign, where people could book a doctor consultation for 10 takas only. It was the biggest turning point for us. We did the campaign in collaboration with doctors on our platform. They have been super supportive. They want to serve. And we also subsidized part of the cost for our patients.
I was confident that if people use our platform once, they will use it again. During that campaign, at first, people used our app out of curiosity, but when they experienced the quality of our service, they came back again. That's how we got about 62% of recurring customers.
We have been lucky to encounter a few turning points early in our journey. It is not possible to provide medical consultations for only 10 BDT for a long time. But we have been working hard to offer affordable services.
Currently, we offer consultations for only Tk. 199. The goal is to create awareness among people that you can get healthcare services without leaving your home. And the service does not need to be costly. Rather, you can see a doctor for Tk. 120, which is quite a reasonable price.
Defining the customer journey for our app presented a considerable challenge, primarily because there were no local role models to emulate. Consequently, we had to craft the entire journey from scratch. We conducted international market research, organized focus groups, and gathered feedback from both patients and doctors extensively to develop what we now consider a best-in-class user experience. Notably, we've achieved a unique position in Bangladesh, as all our key services, including finding doctors, doctor consultations, digital prescriptions, online medicine orders, and online diagnostic orders, can be seamlessly accessed through the app without any human intervention. This comprehensive, fully digital hospital-at-home experience sets us apart. We take immense pride in our technology and the local engineers who have built this platform. Our roots are firmly planted in Bangladesh, and we are proudly "Made in Bangladesh".
We are the leading digital healthcare service provider in Bangladesh, with 1.3 million downloads of our app on the Google Play Store and a 4.7-star rating. This is higher than any other Bangladeshi healthcare app. This rating speaks for the quality of our service and our user experience. We served over 400,000 patients from 64 districts in Bangladesh.
Currently, we have 750k registered users, which gives us access to over 3 million patients across the country. We have seen that the bulk of our users use DocTime to consult their family members.
We have over 5000 registered doctors on our platform, and over 1300 of them are fully approved with strict doctor onboarding, BMDC, and other verification processes. We have both GPs and specialists on the platform, covering over 38 different clinical areas.
We have built a rigorous process to approve doctors. Before approving a doctor, we check their credentials and other necessary documents to ensure their legitimacy.
We serve patients of all age groups and have specialists who see patients for a wide range of diseases.
Mr. Hossain, could you please share a bit about your leadership style at the workplace?
I am a forward-thinking leader with a clear and inspiring vision for our company's future. Effective communication of this vision is a key strength, as I ensure my team is aligned with our mission. My leadership style at our digital healthcare startup is grounded in collaboration and innovation. We cultivate a culture of open communication where each team member's input is highly valued, fostering creative solutions to the multifaceted challenges within the healthcare industry.
I place immense importance on building effective teams and identifying exceptional talents, as they are integral to realizing my vision. Ownership is a fundamental principle in our approach, with clear KPIs assigned to every small project, ensuring accountability and responsibility for achieving objectives. Leading by example, I emphasize the significance of adaptability and resilience, qualities essential in our rapidly evolving field. Continuous learning is a top priority, and we encourage our team to stay at the forefront of industry trends and technologies.
Data-driven leadership is another pillar of our approach, with each team leader assigned KPIs for their respective areas of responsibility. These KPIs serve as metrics for measuring success. I consistently motivate team members to start small, plan meticulously, execute with agility, and embrace trial and error. If a strategy proves effective, we scale it; if not, we learn quickly, cease it, and move on to the next approach, ensuring an environment where innovation thrives. Ultimately, our goal is to make quality healthcare accessible to all, and our leadership style is designed to drive us toward that mission.
In the digital healthcare space, how does DocTime ensure unwavering patient privacy and data security?
At DocTime, the protection of customer data is of paramount importance. We take our user's privacy and security very seriously. We have strong rules and policies in place to make sure that their personal information is kept safe and private. Key measures within our policy book include robust data encryption, access control mechanisms, network security, data security protocols, incident reporting procedures, and round-the-clock automated server and physical infrastructure monitoring. We diligently uphold network security by encrypting data in transit through the Transport Layer Security (TLS) protocol and utilizing AWS Virtual Private Cloud (VPC) to establish secure, isolated network environments. Our security arsenal extends to the AWS Web Application Firewall (WAF) to shield web applications from potential threats, alongside firewalls and intrusion detection systems for comprehensive network attack prevention. Data stored on our AWS servers is fortified by encryption at rest using the Advanced Encryption Standard (AES) and is meticulously managed through the AWS Key Management Service (KMS). Furthermore, secure data disposal practices are diligently followed, while regular data backups are stored in secure locations.
How do you ensure that DocTime's services remain in full compliance with all relevant healthcare regulations and guidelines?
In the absence of specific telehealth regulations in Bangladesh, DocTime is fully committed to maintaining the highest standards of healthcare and remains in regular communication with DGHS for updates on any forthcoming telehealth regulations. Nevertheless, we diligently adhere to the guidelines established by the Bangladesh Medical and Dental Council (BMDC) to ensure the quality of our services. Our dedication to excellence is further underscored by the prestigious Bangabandhu Innovation Grant awarded to the DocTime platform by the Bangladesh Government, acknowledging our innovative approach.
We are really serious about following the rules and providing excellent healthcare. We show this by being very careful when we bring new doctors into our team. Our Clinical Government Team conducts meticulous evaluations of the quality of doctor services and prescriptions, ensuring that we consistently provide top-notch patient care.
In this ever-evolving landscape, where specific Telehealth regulations are currently absent, our primary focus continues to be on patient safety, delivering quality care, and ensuring a seamless user experience.
We would be delighted to hear about any pivotal partnerships or collaborations that have propelled DocTime's growth.
DocTime has actively cultivated strategic partnerships to expand its reach and impact. A notable collaboration is with Banglalink, the third-largest telecommunications company in Bangladesh. This partnership has enabled us to offer our services as a white-label solution, extending quality healthcare access to their 5.5 million monthly active users. Additionally, we've established a partnership with icddr,b to digitize their hypertension and diabetic programs. Our jointly developed treatment algorithm with icddr,b empowers patients to manage hypertension through lifestyle adjustments when suitable, while also facilitating specialist referrals when necessary. Moreover, DocTime has formed partnerships with several key entities, including Guardian Life Insurance, Chartered Life Insurance, Pragati Life Insurance, Praava Health, Amar Lab, Osudpotro, and numerous other healthcare partners within the ecosystem.
Mr. Hossain, how does DocTime contribute to the improvement of healthcare access in rural or underserved areas?
Our primary service is instant, 24-hour on-demand doctor consultations from anywhere in the country. We provide a range of other healthcare services, surrounded by doctor consultations. Aligned with our mission to make quality healthcare more accessible, we have managed to keep our promise. Out of 400,000 patients, 58% of them are from rural and sub-urban areas, where getting access to a doctor is very challenging. DocTime has a footprint in every district of Bangladesh. DocTime wants to build smart healthcare as part of the Smart Bangladesh agenda, and Banglalink is working on building true digital Bangladesh. And as I said before about that, we are partnering with Banglalink to create healthcare accessible to millions of their customers. Banglalink is already using the DocTime service white-labeled in their My BL app, making healthcare accessible to their 5.5 million digitally active customer base. We have plans for the future to work with the government and access the union digital center to make it accessible to more people.
At DocTime, we've made significant strides in addressing a crucial aspect of healthcare access, particularly in rural and underserved areas. Our data indicates that 54% of our patient base comprises women and children, a demographic often confronted with challenges when seeking quality healthcare. We're proud to have successfully bridged this gap by providing accessible healthcare solutions for women and children. Our digital platform allows them to consult with healthcare professionals, order medicines, and access essential services from the comfort of their homes. By leveraging technology, we've been able to extend the reach of quality healthcare to these underserved populations, making a meaningful contribution to improving healthcare access in rural and underprivileged areas.
We are also delivering medicine everywhere in the country, and 35% of our medicine gets delivered to people living outside Dhaka.
Self Portrait
Mr. Anowar Hossain, could you please share some of the experiences that defined your childhood and contributed to your personal growth?
Growing up in a diverse neighborhood exposed me to various cultures and taught me to appreciate diversity. Playing team sports during school instilled teamwork, discipline, and a strong work ethic. Family travel broadened my horizons and fueled my curiosity, while their focus on education encouraged continuous learning. These experiences shaped my personal growth significantly.
How have your academic and professional life enlightened you?
My academic and professional experiences have been profoundly enlightening. Academically, I've gained a deep understanding of various subjects and developed critical thinking and problem-solving skills that have proven invaluable in my professional life. Professionally, I've had the opportunity to apply my knowledge in real-world situations, which has reinforced the importance of adaptability, collaboration, and continuous learning. These experiences have collectively broadened my perspective and enriched my life in countless ways.
What factors have influenced you and helped you become the person you are today?
Numerous factors have shaped me into the person I am today. First and foremost, my family's unwavering support and values have been a profound influence, instilling in me the importance of integrity, hard work, and resilience. The diverse experiences of my upbringing in a multicultural neighborhood fostered an appreciation for different perspectives and the ability to connect with people from various backgrounds. My academic journey has also been pivotal, equipping me with knowledge and critical thinking skills.
Professionally, the challenges and successes I've encountered as a founder have played a significant role in my growth. They've underscored the value of adaptability, leadership, and teamwork. Lastly, the mentorship and guidance I've received from remarkable individuals along the way have been instrumental in my development. These multifaceted influences collectively define the person I've become, and they continue to motivate and shape my journey.
What is your life philosophy?
My life philosophy revolves around a few fundamental principles. First and foremost, I believe in the power of continuous learning and growth. Life is a journey of self-improvement, and I'm committed to expanding my knowledge and evolving as an individual.
Secondly, I value resilience and adaptability. Life is filled with challenges and uncertainties, and the ability to bounce back and adjust to changing circumstances is crucial.
Equally important is the concept of empathy and making a positive impact on the world. I believe in contributing to the well-being of others, whether through my work as a founder or in personal interactions.
I embrace a perspective that doesn't acknowledge failure as a final outcome. Even when the odds of success appear slim, I believe in my ability to persevere and attain my goals. I'm dedicated to setting clear objectives, entrusting the right individuals with their realizations, defining key performance indicators (KPIs), and meticulously crafting a strategic plan. While the plan and execution may undergo adjustments, the overarching objective remains constant, and I'm committed to reaching it. Equally important is the ability to swiftly recognize if a particular course of action is not yielding the desired results. Early identification of setbacks enables us to adapt, pivot, and forge a new path toward achieving our targets. I'm not averse to calculated risks, assessing them based on a multitude of factors, and embracing them as opportunities for growth. Lastly, I embrace the importance of balance. Balancing personal and professional life, as well as physical and mental well-being, is vital for long-term happiness and success.
In essence, my life philosophy revolves around growth, resilience, empathy, and balance, all while striving to make a positive impact on the world and those around me.
What's your plan for Bangladesh?
I aspire to align with the honorable Prime Minister's vision of a "Smart Bangladesh" by 2041, particularly within the realm of smart healthcare, which aims to make quality healthcare accessible and affordable throughout the country. My vision is to bring healthcare to every doorstep in Bangladesh by 2041. Recognizing the existing challenges and limited trust in healthcare within the nation, my goal is to transform this perception. We are committed to a strong emphasis on preventive care, maintaining ongoing health and well-being, and ultimately fostering a more trusted and resilient healthcare system for the people of Bangladesh.
Quick Chat With Anowar Hossain
The greatest achievement of your life as of now:
To date, my most significant achievement has been earning the trust of our patients and making a small yet meaningful contribution to the well-being of the people in my country, granting them access to high-quality healthcare. It fills me with pride every time I witness a patient from a remote rural area seeking consultation with a distinguished doctor from Dhaka Medical College through my app, a father reaching out to DocTime in the middle of the night for his child's unexpected healthcare concern, a woman consulting with a female gynecologist from the comfort of her home, a young son assisting his 50-year-old father with diabetes management via remote doctor consultations, or a patient with limited mobility receiving care from home due to health constraints.
This endeavor has not only allowed me to realize my initial vision but has also significantly impacted the lives of numerous individuals. I take great pride in the accomplishments of our dedicated team and our collective contribution, which has touched the lives of over 400,000 people. This achievement stands as a defining milestone in my life.
How do you define patriotism?
I think patriotism is a deep love and loyalty for my country (Bangladesh), where we actively work towards its betterment and the well-being of our people. It involves a sense of pride, responsibility, and a commitment to upholding the values and principles that define our nation. I returned from the UK to do something for the country and its people; this is patriotism for me.
The greatest philosopher in your view:
René Descartes.
Meaning of "Success" to you:
Success is typically associated with achieving predefined goals. However, for me, true success lies in creating a profound impact that leaves a lasting impression, ensuring that people will remember and appreciate my contributions long after I'm gone.
Your Icon:
Bill Gates.
Name the most influential books you have read:
"Six Thinking Hats" by Edward de Bono and "The Alchemist" by Paulo Coelho.
What did you want to be when you were a child?
I wanted to become a police officer!
Which is the best gift you've ever received?
My son Ayaan and my daughter Azrah are the biggest gifts Allah has given me in my life.
Your greatest fear:
Not being able to keep commitment.
Favorite Poet and Litterateur:
Edgar Allan Poe and Jean-Paul Sartre.
What motivates you?
Passion about new ideas, implementing them, and getting results.
Creating impact and solving problems.
Best piece of advice you've received:
Aim high, sky is the limit.
When faced with challenges and obstacles, seek guidance from Allah
You in only three words:
Ambitious, Passionate & Visionary.
The InCAP: Thank you, Mr. Hossain! It's a glittering conversation with you!
Mr. Anowar Hossain: My pleasure! Wish you all the best! Thank you.
Highlights of Achievements, Merits, and Honor
BSc, MSc (Full Scholarship from London)
First class in BSc with a top score in the region, Distinction in MSc with the top result in the Batch, Vice Chancellor's List 2007, London Met Student Graduate Scholarship 2006, Top Student of the region in BSc 2006, NCC-Roll of Honor for Advance Diploma Computing 2004, High Achiever Award in Middle East Region for Diploma Computing 2003, Best Performance Award 2006 by the University, Best Student Award 2004 by the University.
Skill Set
Technology Background (from Developer to CTO), System Architecting & Design, Leadership, Business Strategist, Excel (business models) & Power Point (partnerships proposal & presentations)
For Intrinsic Section:
Father: Abdur Rouf Gazi.
Mother: Khuki Begum.
Siblings: Jahangir Alam, Monir Hossain, Alamgir Hossain, Mehedi Hasan.
To read more Cover Stories, Please Click Here!