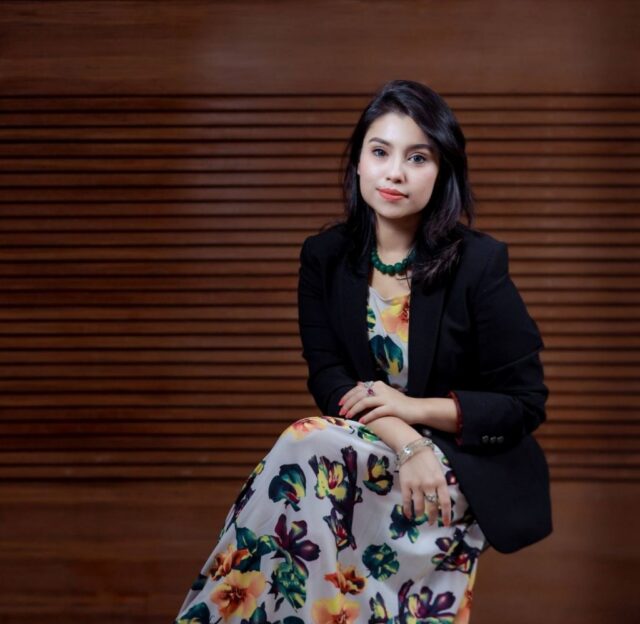 Barrister Shehrin Salam Oishee
Director of BGMEA
Director of Envoy Group
Chairman of Oishee Accessories Ltd.
Barrister Shehrin Salam Oishee is a director of Envoy Group and Chairman of Oishee Accessories Ltd, who has launched her energetic initiatives for the betterment of Bangladeshi people. She is the youngest director of BGMEA. She got published as a Barrister at the age of 21 and pursued various sectors of the legal profession since then, gaining in-depth knowledge in both criminal and corporate litigation.
Ms. Shehrin is a second-generation businesswoman in the RMG industry. She is the only daughter of Mr. Abdus Salam Murshedy, MP. She has an excellent educational history. She had successfully completed her Bachelor of Law (LLB) from the University of London (UK) as an external student. She has received the Merit Award for Outstanding Result from the University of London as an overseas student for her LLB. She has always foreseen herself as an entrepreneur and hence has joined the family business, Envoy Group in 2011, just after completing her LLB. In the meanwhile, she had completed her Bar Professional Training Course (BPTC) from City Law School (CLS), under City University (UK), while being published as a Barrister from the Honourable Society of Lincoln's Inn (UK). She has also completed an internship in the RMG sector.
As a Barrister, besides the business, Ms. Shehrin is a practicing advocate in the Court in Bangladesh. She is also involved with teaching institutions as a Lecturer for LLB students.
Besides the professional aspect of her life, Ms. Shehrin has been working as the Legal Advisor of the Physically -challenged Development Foundation (PDF), an organization dedicated to the welfare and upbringing of the disabled and underprivileged members of society.
Exclusive Interview with Barrister Shehrin Salam Oishee
The InCAP: It's not possible to greet you in limited words. You are the youngest Director of BGMEA, Successful Entrepreneur, Director of Envoy Group, Teacher, Barrister, and a Mother of a cute angel. How do you enjoy your responsibilities?
Barrister Shehrin Salam Oishee: Thank you so much for the wonderful introduction. Not sure if I would accredit myself with so much capabilities in each sphere but I do humbly accept it. First and foremost, I believe the beauty of any woman is in the art of balancing her roles in the furtherance of her goals. I have always been brought up as an independent lady, being taught the value of establishing my own position in the society alongside learning to be the perfect balanced lady (in my eyes) that my mother is. I believe women are simply "Super Women" and we do own the art of creating the perfect balance between all roles we play, starting from being a home maker, a mother, a working woman, etc.

Being everything is a difficult task. I believe multitasking is a myth. At the end we end up being jack of all trades and master of none. Hence I prefer being the best of myself in whatever I do. I was taught to value family and relations before simply donating all my time and energy to work. The reason being, family always comes first. I walk into a house full of love and laughter, my daughter's warm embrace and I feel most successful then. Work alone cannot define who I am, everything together, however, does. I have had immense support from my family while I was setting up myself in all spheres of my career starting from my legal chamber set up to learning the business and finally dedicating all my time there.

Being a businesswoman is all about carrying the priceless legacy of my father, Abdus Salam Murshedy. It's a matter of pride for me to be able to work in an empire which my father had well settled for us from before hand. I am forever grateful for that.

On the other hand, being a Barrister and a lecturer, is something that traces back to my educational achievements. This identity, as my parents tell me, is something entirely mine and they are so proud of that. As a matter of fact, hearing them introduce me to others saying " Meet my daughter Barrister Shehrin Salam, she was the youngest to pass Bar-at-Law in Bangladesh" makes me swell up in pride. So this identity is very special too.

But another special identity had joined my list, that's being a mother. This new role is just amazing in its own way. I smile and cry with my little girl, I am growing with her everyday, I learn everyday, but the feelings as a mother is simply divine. I don't know how much I can explain in words, but this is surely a wonderful start for a wholly new journey of my life.
You have been elected as a Director of BGMEA. Congratulations! What is your dream with BGMEA? And how do you want to contribute to the Garment Industry of Bangladesh?
Thank you so much. BGMEA is actually my father's arena. Ever since I was born, I had seen him dedicate his major time to this organization, and finally, in 2009 he was elected the President with a landslide victory of the whole panel. So being a Director for the same organization is surely a matter of pride for me. I would like to believe that I have many more years ahead to work and learn from the best in the industry and help organize my pathway in this sector. As a Barrister, I feel I can add more value to the growth of the sector too, from a slightly different perspective than everyone else. My first step shall be to organize and restructure a more accountable and amicable trade arbitration system for BGMEA itself in order to resolve its member's disputes. Trade and litigation are not the best friends really. A long-lasting trade relation can only be retained with an outside court settlement at best, a
I was nominated by our Hon. President to preside as the Director in-charge for the Lactating Mother's Fund, for the welfare of the expecting female workers in this sector. As a woman, I shall try my best to maintain balance and ensure the proper allocation too.

Besides the legal side, I am currently also taking part in the bigger portions of Circular Fashion and Purchasing Practices, two main wings of BGMEA concerning sustainability and buyer-seller trade practices respectively. These are areas where I can surely explore more over the years and the experience gathered shall help me contribute more to the sustainable growth of this industry.

In an industry where appx 75% of workers are women, I feel more female Directors should take charge in the Board, in the coming years. A more gender-balanced Board shall provide a more equal balanced perspective. As one of the 3 female directors in board, I don't wish to be pigeon-hold to women-based affairs only, but rather keep a more open perspective, based on my merit and not simply on my gender. Besides working for the women involved in this sector, we have a vast opportunity to work for transgender and the differently-abled people in our society, by getting them more involved in this sector. As you will see, the Budget 2021-2022 states a similar tax-rebate for industries employing transgender.
You often talk about the power of negotiation. How do you see yourself as a negotiator? How much impact do you think this power would have on your business and BGMEA?
Negotiation is an art. When you are doing any form of business, you need to excel in negotiation. It gives one the opportunity to explore and seek the best outcome for all possible parties. Talking from an entrepreneur's perspective, business is greatly dependent on the successful negotiation of the price for orders with the buyers. The very basic negotiation intends to make use of long-term relations and ensure that the bargain is good for all the parties involved. I know my father has mastered it over the years, in trade. I, on the other hand, gained some initial experience from my educational qualifications, while doing my Bar-at-Law course especially. As a barrister, I feel my negotiating power shall be further strengthened based on my extensive practice in both litigation and corporate sectors in the Supreme Court of Bangladesh. BGMEA never had an active lawyer/barrister being a part of its Board. I shall wanna add more to the plate as a Barrister, besides being just an entrepreneur.
You have an exceptional educational peregrination. We love to know the details.
I was just 17 ½ when I enrolled for LLB. For enrolling under the University of London, minimum age requirement is 18 years. I had to literally challenge the board and ensure them that my age shall not be an issue when it comes to the results. Ma shaa Allah, passed with flying colors. In my 2nd year LLB I was attributed with Oxford Merit Award for outstanding results in South East Asia. I finished my LLB when I was 20 years old. I joined City Law School (CLS) in UK right away and had pursued my Bar-at-Law by taking the Call to the Bar from Lincoln's Inn, in 2012, when I was just 21. I still clearly remember my parents attending my Call, it was just the best day of my life. So much pride and happiness I had witnessed in their eyes.

I came back to Bangladesh right after and pursued both Corporate and Litigation practice in the subsequent years. In the meanwhile, I had completed an LLM from the University of Derby, UK, and a further MSC in Criminology and Criminal Justice from the University of Dhaka. In the meanwhile, I had completed courses on Arbitration from BIAC, the learning of which I find comes to my rescue most of the time when I am especially dealing with trade disputes.
Ms. Shehrin, what is your biggest challenge regarding your corporate life?
With all great things said, its important not to forget that challenges are just a part of anyone intending to rise high. I surely had more than just 1. First was surely my age. I had started pursuing my profession, be it business or the law, from a very tender age. Besides that, being a woman, I feel I had faced more hindrance than a boy would have, being in my shoes. Our society tends to consider the combination of a young woman determined to work hard and reach her goals, very competitively. I was kind of ready for it really. No complains of course. Where there is rain there is sun too. What matters most is how I can make most of both. I didn't give up. My family stood strong. I had wonderful colleagues, both in the legal fraternity and in business, and subsequently in BGMEA now, who guides me in the best way possible.
It is seen these days that many young professionals in Bangladesh are perplexed with their career progression. They are hesitant about their choices. What is your advice for them?
This question reminds me of our class teacher asking us on the very first day of school each year, what do you want to be? I remember changing my choices each year. That was one time, but as we grow up, we must surely intend to settle our mind on one choice. The reason I say this is because with too many speculative choices, we cannot really fathom about excelling in one. I believe career counseling especially in the family, is very important. Its not necessary for a Doctor's child to be a doctor too, unless they totally wish to be one themselves. I wouldn't want to pressurize my little girl to be a Barrister like me. She can be what she is best at and wants to be. Similarly, families need to be clear in supporting the young ones on their own choices without being judgmental and help guide them to reach their ultimate goals.
There is a gap in the professional-academic linkage in the Bangladeshi educational system. For example, many students are studying business-related subjects, yet the universities barely have any ties to the industry/corporate world. What's your take on that?
It's necessary we give ample concentration on this particular area. As much as it's important for an institution to understand the plausible merit of their students, it's even more important to help them realize that in the practical world. We need to understand that the product of what we teach our students is what they shall contribute to the society. So helping them make the way to a successful professional end is what should be the main intention of all educational institutions. Affiliations with the necessary educational bodies are of utmost importance actually, and only those courses must be concentrated on.
Ms. Shehrin, we are near to end of this glittering discussion. You are an idol to the youth. Many people follow you as an icon of leadership. Please say something to them.
LAUGHING – I actually don't think I have yet attained that position to be an Idol for anyone, but I humbly accept this as a compliment. Our youth population is the strength of Bangladesh. We see the dream of a prosperous Bangladesh foreseeing the contribution they shall have in the future in all sectors of the country. So its important for them to realize that patience and dedication are the main key to any goals they wish to achieve in the future. They cannot get disheartened and cannot even let go, when they are trying yet not getting the deserved job and or opportunity. We must always believe that the best is yet to come. Everyone has their own share of barriers to cross, we just need to appreciate everyone's hardship, at all times. Always remember, there is no alternative to hard work and dedication.
Quick Chat with Barrister Shehrin
The greatest achievement of your life as of now
Being the youngest BGMEA director of course. Election after 8 years wasn't the easiest and it surely did give a good competition to even the best candidates, whereas I was simply a newcomer in the organization
How do you define patriotism?
Patriotism for me means reflecting your nation's achievements and positives, to the world. Be it from your contribution or others, your nation deserves that from you, it gave us identity and it gave us the freedom we today enjoy.
The greatest philosopher in your view
Aristotle – knowing yourself is the beginning of all wisdom – always mesmerized by the way he used to see life . Also "Hope is a waking dream."
Meaning of "Success" to you
Success for me is about being content in both fields – work and family
Your Icon
My Father
Name the most influential books you have read
Bangabandhu'r Attojiboni
What did you want to be when you were a child?
Pilot – the wish to fly high
Which is the best gift you've ever received?
My daughter – Asmara
Your greatest fear
Disappointing my parents
Favorite Poet and Litterateur
Rabindranath Tagore (poet) and Shakespeare (Litterateur)
What motivates you?
Appreciation motivates me greatly
The most admirable personalities from recent times
I admire Our HPM Sheikh Hasina – a true female who took BD to heights it never expected. I appreciate Amal Clooney, Mamata Banarjee, Justin Trudeau, Kamal Hossain, etc.
How do you want people to remember you after death?
As the girl who never took a back seat when it came to fighting for her rights and that of other females
Disclose one of your prayers
I want my parents to one day say, they had raised a remarkable daughter. I want my parents to one day say, they had raised a remarkable daughter
You in only three words
Filled with imperfections