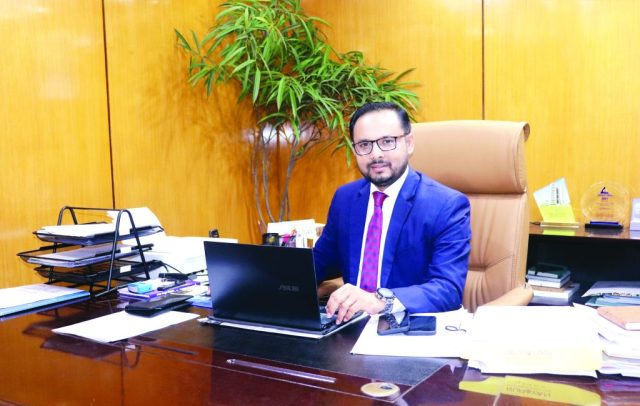 Md. Alinur Rahman
Deputy Managing Director
Rupayan Housing Estate Ltd.
Introducing MD. Alinur Rahman, a stellar individual and a true veteran in the Real Estate Industry of Bangladesh! He is an extraordinary and highly skilled leader for the Rupayan Housing Estate Ltd. who has over 25 years of professional experience at different reputed local companies & MNCs in Bangladesh.
Since the beginning of his professional career life, Mr. Rahman has gained experience working in diverse industries like Real Estate and Banking, to name a few! He is also a gifted leader who is competent in any department, be it Engineering, Customer Services, Sales, Operations & Management. In an ever-changing business landscape, his unique ability to adapt to various situations makes him a true asset.
At present, Mr. Rahman holds the title of Deputy Managing Director at Rupayan Housing Estate Ltd., a concerned company of the renowned Rupayan Group. To successfully handle this huge responsibility of administering such a monumental organization is only possible for someone with superior leadership skills, as possessed by Mr. Alinur Rahman.
He joined Rupayan Group in 2020, and before that, he has profound experiences through working with prominent public and private limited companies in Bangladesh. His expertise ranges from Engineering & Construction, Customer Services, Banking & Financial Institutions, Corporate Sales, and Operational Management. Prior to joining Rupayan Group, he helmed the role of Executive Director in Building technology & ideas ltd. Before that, he was the Head of Corporate Sales & AGM (Business Development) at BProperty.com Limited. He also held top-level and managerial posts in renowned companies like BRAC Bank Ltd., and Sheltech (Pvt.) Limited, Assurance Developments and Asset Developments & Holdings Ltd.
Apart from his impressive achievements and contributions in his professional life, Mr. Alinur Rahman is also an extraordinarily amiable and composed individual. He cares for the people he works with as his family members, thus, earning their utmost love and respect. Under Mr. Rahman's leadership, Ratul Properties Ltd. has ventured into a new era of Sustainable Business.
He stated that Rupayan leans towards building more green apartments going up the demand. But higher construction material prices and apartment registration costs challenge realtors.
In our exclusive interview, let's learn what he talked about his exquisite journey.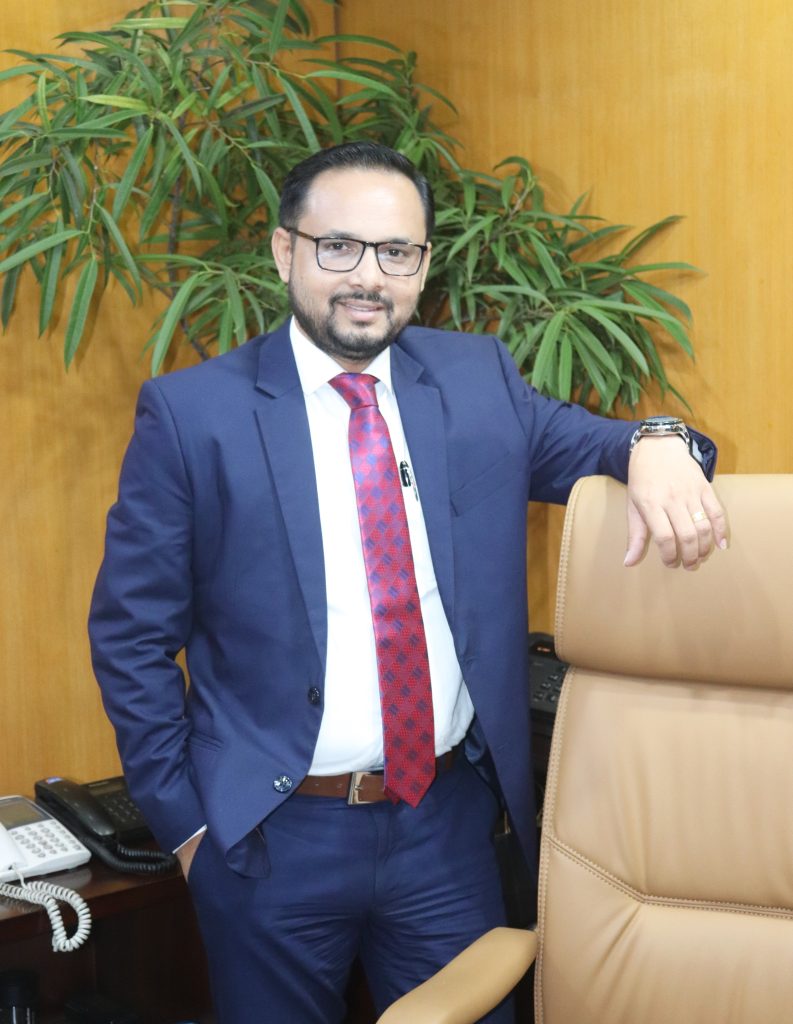 The InCAP: The Real estate sector of Bangladesh has expanded vastly in recent years. Rupayan Housing Estate Ltd. has also a significant role here. Tell us about the current situation of your real estate business.
MD. Alinur Rahman: Though the real estate sector contributes a lot to Bangladesh's Gross domestic product (GDP), we don't get a business-friendly policy from the government or our controlling body. Housing is a basic need of people. So, we take on big projects on huge land to build accommodation for more people. The sector has flourished thanks to the self-venture of developers and realtors.
I believe that if the government and other authorities could be more careful of the sector, it would be the best booming sector in the country.
Rupayan Housing Estate Ltd. has been one of the biggest names in Bangladesh's real-estate sector. What have been the company's biggest strengths?
Rupayan Housing Estate Ltd. is one of the biggest names in the real estate sector of Bangladesh. We build strong and quality buildings. We have a strong and innovative culture, and we maintain aesthetic design through our creation. We are such a developer who is leading from the front. We created the country's first township project (Rupayan Town) in Narayangonj and one of the biggest and first premium mega-gated community projects (Rupayan City Uttara) in Uttara.
Besides, our strengths are unique products, excellent efficiency, and productivity. Rupayan is a customer-centric organization. Our services create raving fan customers. However, we can scale sustainably and have high adaptability. We continuously work on the diversification of products and services. We are also blessed to have robust and decisive leadership. Rupayan Housing Estate Limited's journey of 24 years has been glorious, and through this journey, we have fulfilled the dreams of a lot of people by constructing apartments and commercial projects in Bangladesh.
Our undergoing projects are at Motijheel, Naya Paltan, Mirpur-01, Tejgaon, West Dhanmondi, South Badda, Bashundhara R/A, Mirpur DOHS, Savar, Sylhet, Kanchpur, Cumilla, Chattogram, and Narayanganj.
We look forward to creating more so that the Rupayan group continues to create history in the Bangladesh real estate sector. The foundation work of our green paradise at West Dhanmondi on 102 Katha will be started soon as the soil test has already been completed. Our first satellite town at Narayanganj will be environment-friendly.
Now, what type of flats is in much more demand by customers?
Now job holders and businesses are going through a challenging moment for various reasons. Therefore, apartment between 1500-2000 square feet is more in demand. Considering it, we bring good apartments worth Tk1.5 core to Tk2.5 crore in the market.
What type of facilities do clients want in an apartment?
Once, buyers used to look for only an apartment. But now their test has changed due to increased income and change of lifestyle. Now, they want wellness communities and condominium apartments. Clients want multiple facilities together for their family members in apartments. They want such an environment that kids and elderly people can enjoy.
Rupayan Housing Estate is a pioneer in Bangladesh, providing condominiums, gated communities, and satellite towns. Considering social responsibility, we always try to build environment-friendly housing where all aged people can be beneficiaries.
Many developers lean towards larger and greener apartments. Do you build green apartments?
The green apartment concept came to Bangladesh for 5/7 years. Green apartments have many issues, such as water reusing issues, waste management, huge open space, a percentage of greenery, and soil issues. Though some issues are ensuring here, bringing all facilities in our country is tough.
We are seriously working to include such facilities in all our projects. Now several companies like Bti, Sheltech, SEL, Concord, and Rangs Properties Ltd are also doing it. Our Rupayan Swapno Niloy in the Siddheswari area of Dhaka was built green apartment concept. It is a high condominium project in the country. Besides, Rupayan Town in Narayanganj Bhuighar where has huge open spaces and greenery.
Apart from this, our ongoing Rupayan Lake Castle project in the Bashundhara area will be a proper greenery building. And, Rupayan green paradise project on 102 Katha at West Dhanmondi will be made into a natural pond.
We don't think only about financial issues before setting up a building. Our priority issue is to ensure a livable and quality building for our clients. As we build an apartment on our purchased land, so we can provide it at a reasonable price.
What type of challenges do you face while implementing your projects?
There are many challenges in the real estate sector. Now, our key challenge is higher construction raw material prices and apartment registration costs. However, I heard that authorities are concerned to think to do apartment registration in a full-value system. If it is implemented, the flat registration cost will go up from Tk. 8 lakh-10 lakh to Tk. 25-30 lakh in a Tk. 1 crore valued apartment. The registration process should be at a minimum rate; otherwise, buyers will suffer, which will be a new challenge for the sector.
Besides, the construction area will reduce by 30-35 percent due to the Detailed Area Plan (DAP), when developers will make buildings jointly with land owners. Ultimately an impact will fall in apartment prices. On the other hand, apartment prices may rise around 30 percent. So, DAP should be amended.
There are around 250 sub-industries in the real estate sector. All should work together to flourish the industry.
Many allegations are noticed in the sector. As a developer company, what type of complaints do you receive from clients?
We notice some alliteration that occurred due to our negligence, policy, and process. So, customers have to suffer for these reasons.
But Rupayan Housing Estate Ltd. is one of the leading real estate companies in Bangladesh, established in 1989. We always try to ensure customers' rights from the land process to apartment handover. We are firmly committed to ensuring our clients' rights.
Now developers use modern machinery in construction instead of utilizing labor. So what thing is cost-effective for you?
Once, laborers used to carry raw materials on their heads to cast the roof of a high-rise building, but the trend has changed. Now we use a different type of modern machines in all our work, like foundation piling, and roof casting in buildings. We also use ready-mix concrete (RMC) to maintain qualitative value and speed up the work. The mechanism is also used in civil work, sanitary, and painting, and people just direct now.
Since the last era, the use of modern technology has started in the sector. Now, most companies use machinery to construct their projects.
We face a labor shortage in our industry thanks to the increase in GDP. So, now laborers don't have an interest in working hard. So, we have to get help from machinery as the number of laborers here is decreasing daily. Earlier, laborers came to the city from the village. But now they don't come from there. Even many became entrepreneurs or joined other jobs changing to construction professions or working in villages as the rural area is now very developed.
Besides, we can work by machines perfectly, and speed up our construction activities. The demand for modern machines in the construction sector increased owing to high-rise buildings and the quick completion of project activities.
Modern technology increases the qualitative standard of building. Rupayan is a pioneer in a commercial building in the country. In addition, we design our buildings by renowned architects of Bangladesh. So, we maintain 100 percent qualitative value in our projects.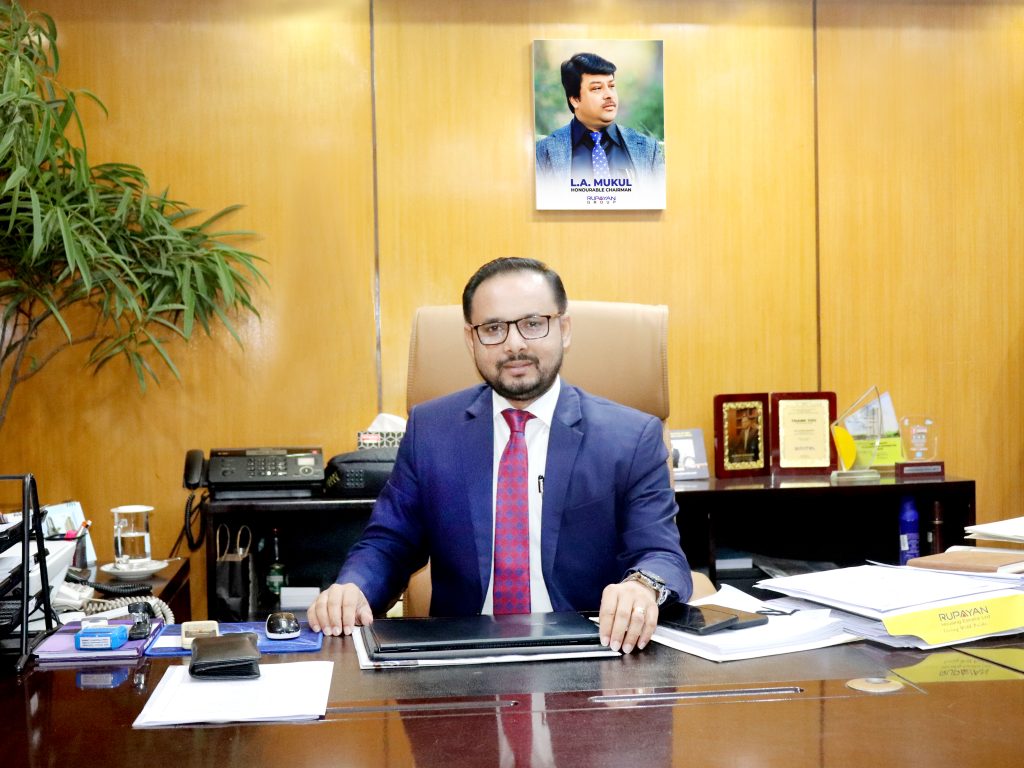 The government has initiated to use the of eco-friendly blocks instead of fired bricks in all of its projects by 2025. Do you use the blocks in your construction projects?
Now eco-friendly blocks are being used in modern construction as these are environment friendly. It also is helpful in the building's structural load being light. We have already used the blocks in Rupayan Town. In the future, we will use more blocks in our projects.
As you used to work at Ratul Properties Ltd for long days, what is the challenge of the secondary property market in Bangladesh?
The demand for secondary property is high in our country now for the middle and upper middle-income segment because it can be got at reasonable prices compared to a new apartment.
Besides, more times or 2/3 years need to get a new apartment. So, the demand for ready and used apartments is high here now. If clients decorate a used flat, s/he will get a flavor of the new apartment as well.
Ratul Properties is a sister concern of the Rupayan Group. It is the most trusted property solutions provider in Bangladesh. Since our inception in 2006, we have been committed to providing our clients and partners with the best real estate services and experiences. It's a one-stop solution in the real estate marketplace of Bangladesh, with our buy, sell, and exchange offers. Clients can purchase an apartment from us by selling their land to us.
What is Rupayan Housing Estate Ltd.'s Future plan?
I have been in the sector for the last 25-26 years. I want the sector to be developed as environmentally friendly, which would benefit both the customer and the company.
As we noticed a good demand for green apartments, so we lean towards doing it. When we built Rupayan Town, it was unbelievable to people, but now it is pragmatic.
We have the plan to build a green building at Purbachal and Chattogram. Later, we would build it in Dhaka and out of the capital, like Khulna, Sylhet, Cumilla, and Bogura. So our next mega cities will be 100 percent green building concept.
The InCAP: Thank you, it was great and informative!
MD. Alinur Rahman: You are welcome. My very warm wishes to The InCAP team and to the readers!
To learn more Majestic journeys, Please Click Here!