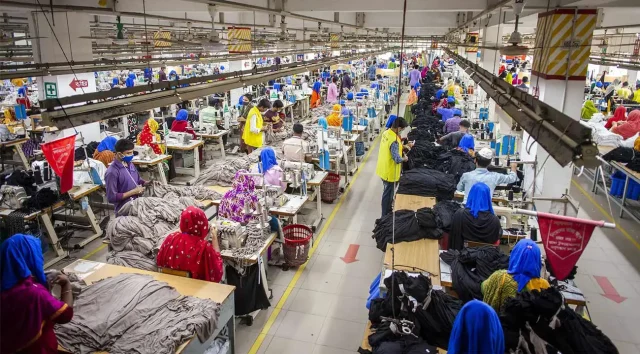 The association gave some instructions to its member factories regarding Eid-ul-Fitr holidays.
BGMEA said April 20, 2023 (Thursday) will be the last working day before Eid. The concerned government departments have already requested BGMEA to give Eid holidays to the workers incrementally to avoid huge pressure on road, rail and launch journeys on the same day. Bangladesh Garment Manufacturers and Exporters Association (BGMEA) gave some instructions to its member factories regarding the Eid-ul-Fitr 2023 holidays for the workers and employers of the apparel sector.
In a letter to the members, BGMEA President Faruque Hassan gave the instructions.
He urged workers engaged in the export-oriented garment industry to follow the instructions to ensure safe commuting to and from the villages during the Eid holidays.
"In coordination with respective factories, own shipments, work orders and production, if there is an opportunity, I request factories to give leave two or three days before Eid," he added. However, by negotiating with the workers, the factory authority can open the factories in emergency cases on weekends and public holidays. "We also urge workers not to travel on goods-laden trucks, on any vehicles as extra passengers on the eve of the holidays. Moreover, we also urge you to maintain the common traffic rules and to avoid eating or drinking something from unknown people," he added.
He also urged the factory authorities to form a team of 8 or 10 people (showing uniform and ID cards) and cooperate with the local traffic department if necessary to ensure that the workers travel safely to the village on the last working day. He also said that as per the report of the intelligence agency, a third party or vested interest group may try to cause labour unrest.
"If anything like this happens, consult with local law enforcement agencies, DIFE and BGMEA," he added.
In a separate letter to the members, he urged them to adopt the electrical safety measures as the rising temperature and other factors lead to a spike in the number of explosions and fire incidents during the summer season. He also instructed members to inspect all electrical cables, wiring and other electrical equipment in the factory regularly and to measure the electrical voltage and temperature (hotspot) of all electrical equipment. He urged the members to use proper quality wire for all electrical appliances and to handle all electrical activities by certified skilled electricians.