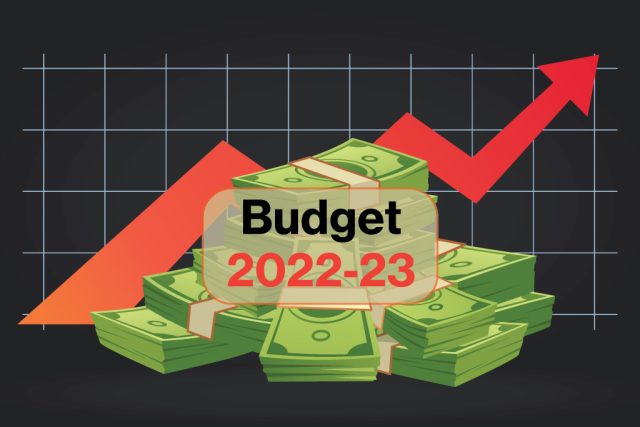 Fast access to all stories related to the proposed national budget for the 2022-23 fiscal year, tabled in parliament on June 9, 2022. So, it is about Bangladesh Budget 22-23 At A Glance.
Coffee to become more expensive
The finance minister proposes imposing a 20% supplementary duty on processed and ready-to-consume coffee at the import stage.
7.5% VAT imposed on meditation services
The minister mentioned the benefits of meditation on mental health.
Allocation for law enforcement agencies increased by 1,853C
Public Security Division and Security Services Division jointly get Tk28,781 crore.
Government to impose 5% VAT on locally produced refrigerators
Manufacturers have been exempted from import duty for raw materials until 2025.
The tourism industry gets Tk1,000 crore as incentive
According to Finance Minister AHM Mustafa Kamal, Bangladesh's tourism industry was hit hard by the COVID-19 pandemic.
State-owned banks will not get any more capital injection
State-owned banks have the highest capital deficit in the country's banking sector.
Defense budget increased by Tk2,827 crore
Tk44 crore has been set aside as operating costs of the Armed Forces Division, says the finance minister.
Ten ministries with the highest allocation
The total amount allocated to these priority ministries and departments of the government is Tk3,09,511.
Fertilizer subsidies to go up by 4000C
As the price hike continues, the subsidy for fertilizers has been increased to Tk16,000 crore this time, says the finance minister.
Over 50 warehouses are to be constructed for safe chemicals storage
The industrial sector's contribution to the GDP stood at 35.36% in FY22.
Penalty for VAT, tax return deadline halved
The maximum time for charging interest on the arrears of VAT has been set at 24 months.
The maximum allocation for loan interest payment
Out of the allocation proposed in the budget, 19.2% has been allocated for loan interest.
Utility lines are to be cut if arrears are not paid
The Finance Minister says necessary steps are being taken to prevent tax evasion.
Govt to impose 20% tax on toiletries
Currently, a tax rate of 10% is imposed on such items, including fragrances, makeup items, shaving items, toiletries, and disinfectant items.
Government slashes source tax on raw materials to 4%
The source tax rate on supplies of trading goods has also been reduced to 5% from 7%.
Stimulus programs to continue
Stimulus programs will continue in the 2022-2023 fiscal year to accelerate development by speeding up the recovery process and bringing back the economy to its pre-pandemic state, said Finance Minister AHM Mustafa Kamal.
Per capita income is estimated at $3,007
According to the finance minister, it was $2,824 in the 2021-2022 financial year.
Exotic bird imports to get costlier by 20%
The country currently imports luxurious birds with a 5% import duty.
Submission of income tax returns must be for tech giants
The Finance Minister proposes making presenting proof of return submission mandatory in cases where income arises to a person from Bangladesh through digital presence.
Tariff proposed on motorcycles of more than 250cc
According to the finance minister, factories are being set up in the country to manufacture motorcycles with more than 250cc engine capacity.
Bangladesh Bank to conduct a study to roll out digital currency
Banks worldwide are working on launching their digital currencies as cryptocurrencies become riskier.
Turnover tax for startups to be cut
It was proposed to be slashed from last year's 0.6%.
Bangladeshi digital currency could be coming soon
As the risky use of virtual currencies such as cryptocurrencies continues to grow worldwide, many central banks worldwide are working on launching digital versions of their currencies as an alternative to cryptocurrencies.
Unemployment insurance in the works
Maternity, sickness, and employment injury insurances are also on the cards.
Revenue collection target is 4,33,000C
NBR will collect Tk3,70,000 crore while the rest will be collected from various other sources, says the finance minister.
The price of first-class train tickets will go up
15% VAT will be imposed on air-conditioned (AC) services as well, says the finance minister.
Social safety net allocation to rise by 5.5%
The proposed allocation is 16.75% of the total budget.
Top 5 priorities
Top priority has been given to containing inflation stemming from the fallout of the COVID-19 pandemic and the Russia-Ukraine crisis, says the finance minister.
Proposal to lift duty-free facility on masks, sanitizers
Prices of COVID-19 essentials are likely to go up.
Textile millers to enjoy 15% corporate tax until 2025
The government's tax policy provided support in making this industry competitive internationally.
20% taxes imposed on luxury goods
To save dollars, various taxes are being levied on more than 50 luxury products in this 2022-2023 fiscal year.
12% corporate tax for non-RMG exporters
10% corporate tax for all other green industries also exports goods and services.
Car prices to go up
Supplementary duty on hybrid vehicles will increase.
Corporate tax is reduced further
The target for private investment to GDP ratio can be achieved by reducing the corporate tax rate, says the finance minister.
15% VAT imposed on imported laptops
Laptop computer imports are subject to VAT exemption. As a result, domestic computer manufacturers are facing uneven competition.
Finance minister: No scope to launder black money from the capital market. The government last year continued the opportunity to launder black money on the condition that it invest in the capital market, says the finance minister.
5% tax for the restaurant sector
Finance Minister placed the Tk6,78,064 crore national budget for FY23.
25% more excise duty for well-offs. Anyone with a bank balance over Tk5 crore will have to pay more excise duty.
Power-energy chunk shrinks slightly
The government mulls disconnecting VAT-defaulting business entities' power, gas, and water connections.
Tax will increase by Tk10 thousand for Tk5C in a bank account
An excise duty of Tk50,000 will be deducted now for deposits over Tk5 crore.
Subsidy spending increased to Tk83,000 crore
Increases in oil, gas, and fertilizer prices in the international market could increase subsidy spending by another 15-20%, says the Finance Minister.
Funding for COVID-19 response to be reduced. Tk5,000 crore will be reduced from the COVID-19 fund, says the finance minister.
The tax-free income limit remains unchanged at Tk3 lakh
If a person's monthly income is more than Tk25,000 in the fiscal year 2022-23, he has to pay income tax.
Gold prices will go down
The finance minister will withdraw the advance tax to encourage traders to trade gold legally. Govt to borrow Tk35,000 crore from savings certificates. The deficit of the budget is estimated at Tk2,41,793 crore.
Cigarettes to become costlier
The government plans to increase cigarette prices to reduce tobacco product consumption and maximize revenue collection from this sector.
Attempts to keep inflation at 5.6%
In the 2021-22 financial year, the finance minister announced that inflation would be tied at 5.3%, which has now crossed 6%.
Prices up, prices down
COVID-19 equipment, including masks, prices to go up.
Food assistance for low-income families at an increased price of Tk15 per kilogram
As many as 50 lakhs of low-income families will receive 30kg of rice as food assistance at an increased rate of Tk15 per kg.
Mobile phones to be costlier
Currently, there is a 58% tax on smartphone imports.
GDP growth target 7.5%
In the 2022-23 fiscal year's budget, gross domestic product (GDP) growth has been targeted at 7.5%.
Finance minister likens PM Hasina to a phoenix
This is the fourth budget of the third consecutive term of the government led by Prime Minister Sheikh Hasina and also the overall 51st budget of the country.
Tk81,449 crore budget proposed for the education sector
Allocation increased by Tk9,495 crore.
Budget deficit 245,064C
According to the Finance Minister, the deficit will be financed using local and external funds.
Proposal to legalize laundered money
According to the proposal, no questions regarding the money can be raised once the tax has been paid.
Finance minister unveils Tk678,000 crore budget
The proposed budget size is about 15% of the country's gross domestic product (GDP).
Cabinet approves national budget for FY23
The finance minister is set to unveil the proposed national budget for the 2022-23 fiscal this afternoon.
Finance Minister Kamal at parliament with budget documents
Finance Minister AHM Mustafa Kamal has reached parliament with the Tk6,78,000 crore budget documents.
To explore more economical articles, Please Click Here!