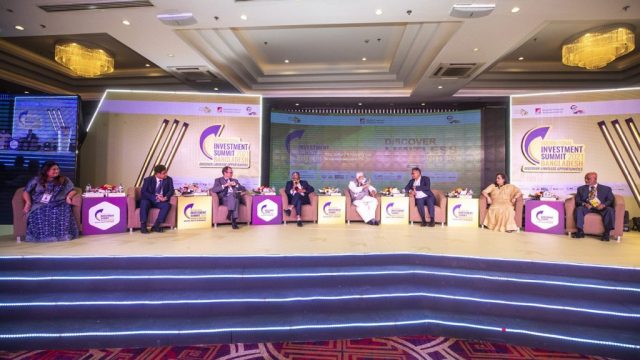 Prime Minister Sheikh Hasina has said that after winning the Awami League elections three times in a row since 2008, Bangladesh has been able to attract foreign investment for the country's political stability, creation of skilled human resources, liberal investment policy through attractive incentives, and geographical location between the vast markets of South and Southeast Asia. As a result, the importance is increasing day by day. Due to confidence in Bangladesh, more than 80 percent of foreign direct investment is coming through reinvestment.
While addressing the inaugural function of the two-day 'International Investment Summit-2021' organized by the Bangladesh Investment Development Authority (BIDA) on November 28, the Prime Minister Sheikh Hasina was virtually involved in the main event at the Radisson Blu Hotel in the capital through video conferencing from Ganobhaban, a government residence of the prime minister.
Sheikh Hasina said, "We have identified 11 potential sectors for investment." These sectors are infrastructure, capital markets, financial services, information technology, electronics manufacturing, leather, automotive and light engineering, agricultural products and food processing, healthcare and medicine, jute-textile, and blue economy. Through this conference, investors will be able to learn more about the potential of these sectors in Bangladesh. As a result, new marketplaces for Bangladeshi products will be created in the world, and Bangladesh will be able to attract the desired investment.
Mentioning the government which is making efforts to create an investment-friendly environment in the country by prioritizing economic diplomacy, the Prime Minister said, "We are giving priority to economic diplomacy. We are working towards the implementation of bilateral and regional priority trade agreements, free trade agreements, and integrated economic partnership agreements. I have signed PTA with Bhutan. Bangladesh is getting a unilateral duty-free export facility to 36 countries of the world. Dual tax avoidance agreements are in force with 36 countries."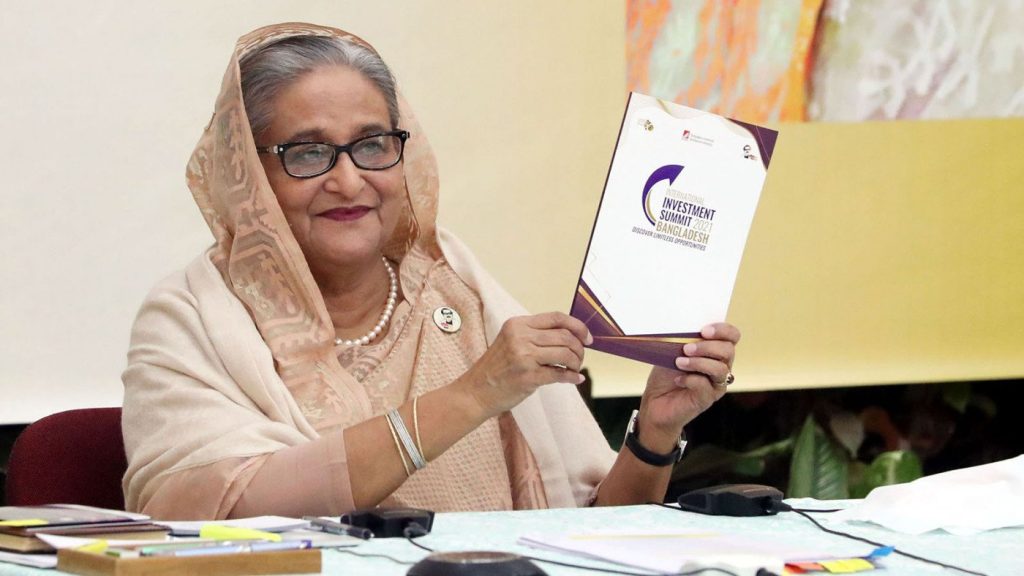 The Prime Minister also mentioned that the present government was working closely with various trade alliances and was committed to providing all possible policy support, including infrastructure, to create an investment-friendly environment.
Referring to the role model of development in the world now, Sheikh Hasina said, "We have received the SDG Progress Award. 99.99 percent of people in the country are getting electricity facilities. More than 12 crore people are using the internet. We are preparing to reap maximum benefits from the Fourth Industrial Revolution by creating a skilled workforce with the latest technical knowledge. We aim to export 5 billion worth of IT products by 2025."
On occasion, Bangabandhu's daughter Sheikh Hasina highlighted the trade policy of Father of the Nation Bangabandhu Sheikh Mujibur Rahman. He said the father of the nation had joined hands in the struggle to establish a golden Bangladesh with empty hands to rebuild the war-torn country. He nationalized all the factories, established the people's ownership, and created opportunities for investment and trade by connecting Bangladesh with the outside world.
Sheikh Hasina said the father of the nation had taken the initiative to set up a fertilizer factory by extracting natural gas for the betterment of the people. His goal was for farmers to get fertilizer at lower prices, produce more crops, achieve food security, and export surplus food and fertilizer abroad. At the heart of his development philosophy was the efficient use of indigenous resources and human resources development.
Awami League President and Prime Minister Sheikh Hasina mentioned the 21-point election promise made before the formation of the government in 1996. "Our government's increased investment in FY 2000-2001 stands at 617 million, he said, Where only 26 million was in the 1995-96 fiscal year. We increased the power generation to 4,200 MW in FY 2000-2001, whereas in FY 1995-96 it was only 1,600 MW."
The Prime Minister said, "We are building Bangabandhu Bridge over the river Jamuna." In addition, we take the initiative to build an IT Village and Hi-Tech Park to develop the IT industry and export development. However, the BNP rejected the offer of free fiber optic cable.
The Prime Minister gave an account of the country's a trade and commerce development during the Awami League government. He said, "We have formulated sector-wise industrial development policy along with the national industrial policy. We have formulated the 'Labor (Amendment) Act, 2018'. I am emphasizing the importance of environmental protection in taking up every project. I am automating bond management for the growth of export-oriented industries. We have built 39 high-tech parks. We are building 100 economic zones in phases. I have received investment proposals of 26.6 billion in economic zones. We are building Bangabandhu Sheikh Mujib Industrial City in Mirsarai, Sonagazi and Sitakunda Upazilas. Two and a half thousand Japanese economic zone investment proposals 1 billion."
At the event, Sheikh Hasina said, "We have enacted 'Bangladesh Public-Private Partnership Act, 2015' and established Public-Private Partnership Authority. Currently, about 30 billion investment proposal is awaiting implementation in 69 PPP projects. In addition, we have formulated the 'Bangladesh Investment Development Authority Act, 2018' and established Investment Development Authority. Since 2019, we have provided 154 investment services of 35 companies online through One-Stop Service".
Furthermore, the Prime Minister said, "We have launched Bangabandhu Satellite-1 in space. The construction of the Padma bridge is near to completion. Construction of Metrorail and Expressway in Dhaka and third terminal at Hazrat Shahjalal International Airport, Regional Airport at Syedpur, another international airport at Cox's Bazar, Karnafuli Tunnel Chittagong, and deep seaports at Matarbari and Payra are progressing fast too. I have incentivized 1 lakh 8 thousand crore rupees to counteract the Corona epidemic."
Highlighting the issue of development in developing countries, the Prime Minister said, "We have moved from least developed to developing countries. The size of our economy is now 411 billion, with a per capita income of 2,554. We have adopted the second perspective plan for the implementation of Vision-2041. In addition, I am implementing 'Bangladesh Delta Plan 2100'."
However, Sheikh Hasina thanked all concerned and the participants for organizing this investment conference on the occasion of the anniversary of Mujib and the golden jubilee of independence at the end of the program.
Among others, Salman F. Rahman, Private Industry and Investment Adviser to the Prime Minister, Saleh Nasser A. Al-Jasser, Minister of Transport and Logistics of Saudi Arabia, Jasim Uddin, President of Federation of Bangladesh Chamber of Commerce and Industry (FBCCI). Bidar's executive chairman also gave a welcome speech. Sirajul Islam.