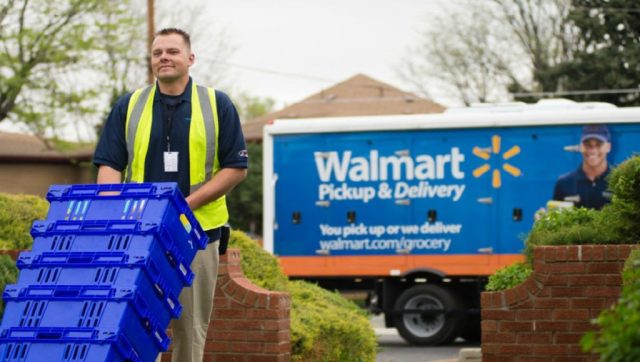 Walmart plans to quintuple the availability of its two-and-a-half-year-old In-Home delivery service, which allows customers to order groceries online and have them delivered straight to their refrigerators. Indeed, this is an impressive plan force to expand Walmart's InHome delivery.
Walmart announced on 5th January, 2022 that it wants to expand InHome's reach from 6 million to 30 million households in the United States by the end of 2022. The Bentonville, Ar.-based retailer said it would hire more than 3,000 associate delivery drivers in the current year and expand its fleet of 100 percent all-electric delivery vans to support the increase.
After announcing intentions for a "food aisle to fridge" service in June, Walmart launched InHome delivery in October 2019. InHome was initially available to over 1 million users in Pittsburgh, Vero Beach, Florida, Kansas City, Missouri, and Kansas.
"Over the last two years, we've been operating InHome in select markets and have found it to be a perfect solution for customers who want to live their lives without worrying about making it to the store or being home to accept a delivery," said Tom Ward, Walmart's Senior Vice President for the last mile. "Our mission is to find new methods to help our customers save time and money, and nothing exemplifies that more than InHome delivery, which is why we're delighted to expand InHome delivery to even more consumers in 2022", he added.
Customers can join up for InHome and start placing orders through the Walmart mobile app or grocery. They then pick InHome as the delivery option, select a delivery date, and designate a home access point at checkout, either the front door or the garage.
When delivery workers arrive, they utilize their InHome app and innovative entry technology to unlock the door or garage with a one-time access code. The delivery team also wears a camera on their vests that records the entire delivery process, from entering the house to stocking the refrigerator to leaving and locking up. Associates put a note indicating that the order is complete once they've finished loading items into the fridge. Customers can use their phones to access the recording for up to a week following each delivery. InHome delivery staff also follow COVID-19 safety precautions, such as wearing a mask and disinfecting surfaces, according to Walmart.
Walmart has touted the function of an associate delivery driver as an up-and-coming full-time position for its locations. Most current shop roles pay an extra $1.50 per hour for In-Home drivers, who also receive full benefits and in-depth training in person and through virtual reality. Walmart said it plans to elevate 3,000 associate delivery drivers from within to fill the new positions.
Meanwhile, Walmart declared the initiative to deploy all-electric delivery vans is in line with its objective of operating a zero-emissions logistics fleet by 2040 and growing its infrastructure of 1,396 EV charging stations across 41 states.
"The associate delivery driver position is yet another example of how technology is enabling us to offer new career options that just didn't exist a few years ago," said Julie Murphy, Executive Vice President, and chief people officer at Walmart U.S. She also said, "Expanding our number of InHome employees demonstrates our faith and confidence in them, as well as their unwavering commitment to delighting our clients. At Walmart, there's a route for everyone to create a career, and this position is proof of that."
InHome will be added to Walmart's increasing list of last-mile delivery choices. Drones, autonomous trucks, and IoT intelligent boxes are among the retailer's unique delivery solutions. It now offers delivery and Express services for over 160,000 items from more than 3,400 Walmart stores, covering 70 percent of the U.S. population. In addition, Walmart GoLocal, a white-label delivery service that extends its e-commerce and logistical capabilities to other businesses, including minor and major stores, was introduced in August 2021.
To read more articles about Business Cloud, Please Click Here…