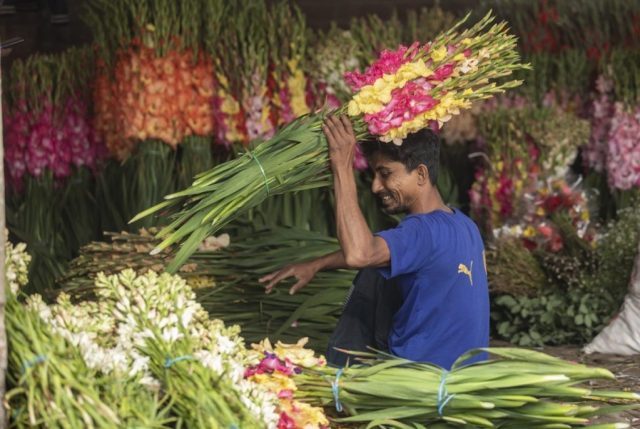 Flower farmers hoped that Pohela Falgun, Valentine's Day, and Ekushey February would help them recover after two terrible years. Now, they are afraid of Omicron. Abdur Rashid from Jessore owns a 250-decimal land on which he's been growing marigolds, double tuberoses, gladiolus, and other flowers for the past 30 years. But most of his properties have been converted to rice farming in recent years because the pandemic has left him with no options. Now the question is misery or pleasure for flower farmers?
"During the first wave, I suffered a Tk6 lakh loss. I believed I'd make up the difference in the second, but I ended up losing Tk2.5 lakh again", A 45-year-old Rashid said by standing on the edge of a marigold field in Chandpur hamlet in Jessore. He added that "As a result, I only grew marigold this year on 30 decimals of ground."
After suffering losses in the first two waves of Covid-19, many flower farmers across the country have quit planting flowers. Instead of flowers, they now grow rice, vegetables, and other things. Flower farming appears to have a grim future, at least for the season.
On around 600 hectares of land in Jessore, approximately 6,000 farmers grow roses, tuberoses, gladiolus, gerbera, and tulip flowers. Some sell their flowers directly to flower sellers in Dhaka, while others sell them in the wholesale flower market.
Flower growers and business owners anxiously anticipate the peak season, which typically begins on December 16, Victory Day, and lasts until March 26, Independence Day. Farmers had high hopes for the year 2022. However, the increase of illness caused by Omicron has shattered their ambitions.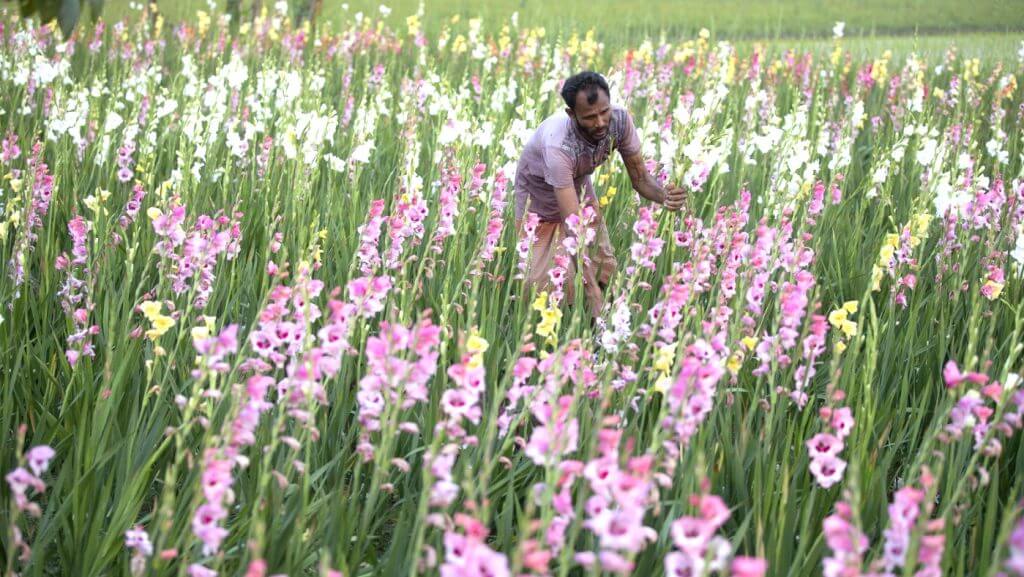 During the five months, the flower business peaks on important days. When Victory Day, New Year's, Pohela Falgun, Valentine's Day, Independence Day, and Pohela Boishakh are celebrated across the country, up to 70% of the flowers get sold. Wedding ceremonies in the winter often increase flower sales. The country's total market size is currently at Tk1,200 crore, according to flower dealers.
Due to Covid-19 limits, many who have already planted flowers in 2022 are bracing for losses during the two major celebrations of the year: Valentine's Day and International Mother Language Day. It usually takes 90 days from the time the seeds are planted to when the blossoms are harvested. The pandemic was in remission when farmers sowed seeds 90 days ago.
"Those who chose Valentine's Day or International Mother Language Day as their objective would lose everything," said Altaf Hossain, another farmer.
According to Masud Hossain Polash, Upazila Agriculture Officer of the district, many farmers abandoned flower planting last year owing to recurrent losses. Flower gardens occupied 630 hectares of land before the pandemic. However, farmers have limited agriculture to roughly 50 hectares of land since last year.
"Many flower farmers would be devastated if the situation persists and people do not go out on Valentine's Day and International Mother Language Day," said Upazila Agriculture Officer Masud Hossain Polash. Many farmers had to put away flowers the year before because demand had plummeted. There are concerns that a recurrence will occur this year, as flowers are perishable.
"Double tuberose can stay in the field for a while, but marigolds and gladiolas should not be left in the area for too long. It's pretty dangerous to do so," Mr. Rashid stated.
The price of several flower species has already dropped down since the introduction of the Omicron-related restrictions, according to Abdur Rahim, one of the leaders of Bangladesh Flower Society, the national trade group of flower farmers and businesspeople. He claimed that one hundred tuberoses used to sell for Tk800 to Tk900 at the wholesale market in Godkhali before the Omicron illness spread. The price has now dropped to between Tk300 and Tk400.
Previously, the cost of a hundred gerbera flower sticks ranged from Tk800 to Tk1,500. The price of the same number of sticks has now dropped to Tk400-Tk500. The cost of a hundred roses ranges from Tk700 to Tk800. On the other hand, the sale of roses is still good because rose imports are no longer allowed.
The price of the flowers will be fixed according to the demand for flowers on Valentine's Day and International Mother Language Day. In addition, farmers will make money if cultural programs, schools, colleges, and universities reopen. "If the restriction lasts until Valentine's Day and International Mother Language Day, the price of flowers will plummet much more," warned Abdur Rahim, the flower producers' head, last week. In addition, some flowers will wilt in the field if this is not done.
To read more Editorials, Please Click Here!