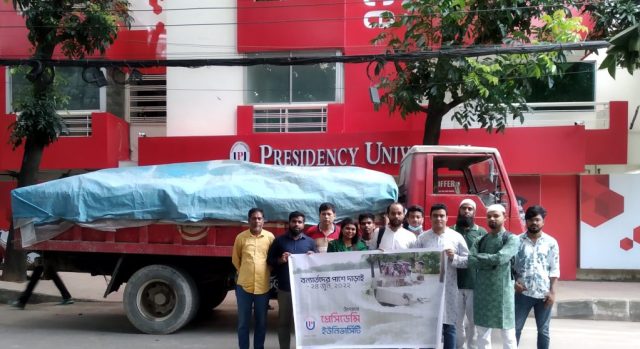 Responding to the call of humanity, on June 24, 2022, at the initiative of Presidency University, relief materials were distributed to about 520 flood-affected families in Natun Bhraman Gao, Bhraman Gao Uttar, and Hasanbasat villages of Sunamganj. The Press Release is about Presidency University Stands by The Flood Victims in Sunamganj.
Police officers of Sunamganj Sadar Model Police Station and members of Union Parishad have cooperated by actively participating in the distribution of relief items. Moreover, through their cooperation, a delegation of officials and students of the Presidency University went to houses in the village in an engine-driven boat to deliver relief items. Finally, the police officers and local representatives praised the humanitarian work of the Presidency University.
It is to be noted that several districts of the Sylhet Division, including Sylhet-Sunamganj, are facing the worst floods in the country's history. Presidency University has stood by the flood-hit people of Sunamganj in this challenging time. The event was organized in collaboration with the Board of Trustees of Presidency University in response to the people's strong desire for survival.
To read more Press Release, Please Click Here!