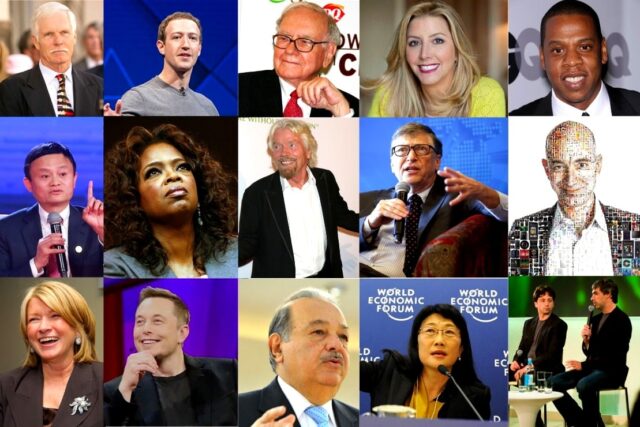 We believe business is one of the best customs of art, so a Business Leader is an artist. With the utmost importance, The InCAP releases the list of The World's most influential living Business Leaders as of 2021. It's an analysis of the International Corporate Association of Professionals (InCAP), so there is no opportunity for debate centering on this ranking.
Here is the list of the top 20 Business Leaders of the world who have had an enormous impact on the world economy.
Born: August 6, 1976 (age 44 years), Los Angeles, California, United States
Travis Kalanick is best known as the founder of Uber. He founded the company in 2009. Before Uber, the best way to hail a ride was through a taxi cab service. However, through Uber, you could hail nearby drivers from the convenience of your smartphone. Uber transformed the way individuals traveled from place to place. And shortly after, other technology companies emerged that offered the same service, such as Lyft. Today, Uber is the leader in personal travel services, putting a substantial strain on the taxicab industry. Kalannick's service proves once again that people prefer the convenience of technology over traditional and outdated methods.
Born: August 28, 1969 (age 51 years), Washington, D.C., United States
Sandberg has been the Chief Operating Officer of Facebook since 2008. She founded a nonprofit, Lean In, named after her best-selling book. She has been an influential advocate for women in the business world. She has made the successful transition from government work at the Treasury Department to the tech industry at Google and Facebook.
Sheryl Sandberg is undoubtedly a transformational leader, who is visionary, charismatic, inspiring, communicating, and innovative in her approach with people and organization. Sheryl Sandberg is a great leader who believes in the transformation of people. She loves her work and her colleagues; this is the key to this tremendous success.
Born: August 17, 1944 (age 76 years), The Bronx, New York, United States
As a co-founder of the Oracle Corporation, his intuitive interest in database analysis and programs began from his youth, and as of 2021, he is the CTO of Oracle Corporation. With a net wealth of US$ 86.9 billion, he is the 6th richest person on this planet. Oracle is a database vendor to mid and low-level systems and competes with Microsoft SQL server miles. On September 18, 2014, Ellison appointed Mark Hurd to CEO of Oracle from his former position as President; Safra Catz was also made CEO, moving from her former role as CFO. Ellison assumed the positions of Chief Technology Officer (CTO) and Executive Chairman.
Born: October 4, 1947 (age 73 years), Stockholm, Sweden
Carl Stefan Erling Persson is a Swedish successful business leader. Persson learned fashion retailing from his father, Erling Persson, who founded a women's clothing store, Hennes ("Hers") in Västerås, Sweden, in 1947. The company added a store in Stockholm and soon became a fixture of fashion in the Swedish market, eventually extending its reach to other European countries. Men's clothing was added through the 1968 acquisition of Swedish hunting-gear retailer Mauritz Widforss, after which time the firm was commonly known as H&M. Persson, who joined the family firm in 1972, helped lead its European expansion and was present when the first British store opened in London in 1976. He assumed leadership as H&M's managing director and CEO in 1982 when his father became chairman of the board. He is the 36% owner of H&M and possesses a net worth of US $18.4 billion.
H&M is the world's second-largest clothing brand and sells fast clothing to men, women, children, and teenagers. It has operations in over 74 countries. The company also makes shopping available to over 33 countries worldwide. With this thing given, the immense popularity that this brand name enjoys has similarly become a notary emblem for others to follow.
Born: March 28, 1936 (age 84 years), Busdongo de Arbas, Spain
Amancio Ortega Gaona is one of the most prolific business tycoons of Spain. He is the founder of the Inditex Fashion Group best known for Zara clothing and accessories shops. He is the head of the Ortega family and the second-largest retailer in the world. For a brief period of time in 2015, his net worth peaked at 80 billion dollars making him no #1 billionaire in the world. Since then his net-worth has seen ups and downs and currently, it's $68.3 billion making him the second richest man in Europe.
Born: April 28, 1962 (age 58 years), Bad Homburg, Germany
As a German billionaire heiress, Susanne Hanna Ursula Klatten is one of the richest and most powerful people in Europe. She owns the car brand BMW and her net wealth of 27.5 billion USD as of 2021 makes her the richest person in Germany and the 50th richest in the world.
After gaining a degree in business finance, Klatten worked for the advertising agency Young & Rubicam in Frankfurt from 1981 to 1983. This was followed by a course in marketing and management at the University of Buckingham, and an MBA from IMD Business School in Lausanne specializing in advertising. She always works hard.
Born: March 5, 1949 (age 71 years), Roubaix, France
Bernard Jean Étienne Arnault is a French billionaire and owns the largest fashion brand industry- LVMH Moët Hennessy – Louis Vuitton SE which is the largest luxury goods company in the world. He is the richest man in Europe.
In 2013, it was disclosed that Arnault planned to apply for Belgian citizenship and was considering moving to Belgium. In April 2013, Arnault said that he had been misquoted and that he never intended to leave France. On 10 April 2013, Arnault announced he had decided to abandon his application for Belgian citizenship, saying he did not want the move to be misinterpreted as a measure of tax evasion, at a time when France faced economic and social challenges. Arnault also stated several employees requested to leave France for tax purposes but he declined their requests. However, the condemnation he faces for endeavoring citizenship still hurts Arnault Family.
Born: October 8, 1960 (age 60 years), Boston, Massachusetts, United States
Hastings is the co-founder and CEO of Netflix. What originally started as a no-late-fees, no-due-dates subscription service soon transitioned into online streaming, which shook the very foundation of digital entertainment. Besides, Hastings constantly uses his position of influence to promote change and reform in the California State Board of Education and through charter schools.
As Netflix grew, the company was noticed for its innovative management practices—the results of the culture Hastings was exploring—called "Freedom and Responsibility." Netflix reportedly offers mediocre employees large severance packages to ensure that employees are consistently working to further the company's innovative environment. Netflix has eliminated sick and vacation time for employees, and instead allows them to manage their time off individually. This is the magic of Hastings Leadership.
Born: December 24, 1961 (age 59 years), Waterford, Michigan, United States
Barra is the chairman and CEO of General Motors Company. As an American business leader who has a net worth of $60 million. Prior to her in 2014, she served as the Executive Vice President of Global Product Development, Purchasing, and Supply Chain at GM. She is currently contesting for space in the electric automobile market. In 2016, she launched the Chevrolet Bolt EV with a battery that outlasts Tesla's. As of late 2017, Barra was elected to the board of Disney with high regards from Robert Iger.
Barra graduated from the Kettering University in 1985, where she obtained a Bachelor of Science degree in electrical engineering. Barra was inducted into the engineering honor society Tau Beta Pi. She then attended Stanford Graduate School of Business on a GM fellowship, receiving her Masters in Business Administration degree in 1990.
Born: May 20, 1944 (age 76 years), Sankt Marein im Mürztal, Austria
As the co-founder and 49% owner of the Red Bull energy drink company, Mr. Mateschitz an Austrian billionaire has amassed a fortune of 27.4 billion USD (2021) and that puts him as the 40th richest person in the world.
After taking ten years to graduate from the Vienna University of Economics and Business with a marketing degree in 1972, Mateschitz's first employer was Unilever, where he worked marketing detergents. He subsequently moved to Blendax, the German cosmetics company since bought by Procter & Gamble, where he worked on, among other things, the marketing of Blendax toothpaste. It was as part of his travels for Blendax that he discovered Krating Daeng, the drink that would later become Red Bull. In 1984, he founded Red Bull GmbH with Chaleo Yoovidhya, launching the brand in Austria in 1987. Subsequently, he turned the Red Bull drink into a world market leader among energy drinks. He has strong management skills what makes him a significant business leader.
Born: October 29, 1971 (age 49 years), Chaoyang, Shantou, China
Also known as Pony Ma, he is the founder and president of Tencent, Inc. Tencent is one of the largest internet companies in China. He has been named to Time's most-influential-people list twice (2007 and 2014). Ma is known for his secretive lifestyle but wields substantial power both domestically and with foreign companies.
As of January 2021, he is China's second richest man (after Zhong Shanshan) with a net worth of US$59.9 billion. In 2016, Ma transferred US$2.3 billion worth of his personal Tencent shares to his charitable foundation, the Ma Huateng Global Foundation (马化腾环球基金会). However, we have not decreased his net worth as the shares are still listed under his name.
Born: March 26, 1973 (age 47 years), Lansing, Michigan, United States
Lawrence Edward Page is a computer and internet whiz who is the co-founder of Google. He is also the co-founder of Alphabet Inc., and as of now, he has a net worth of 78.1 billion dollars, according to InCAP. His impact remains undoubtedly remarkable on Google, now remains one of the world's most popular search engines. On December 3, 2019, Mr. Page announced that he would step down from the Alphabet CEO position and be replaced by Google CEO Sundar Pichai. Mr. Pichai will also continue as Google CEO. Moreover, Page has avoided public appearances since Mr. Pichai became Google's CEO. As a business leader, it's not an easy decision to make, but his plan is always focused on the betterment of the company.
Born: October 28, 1955 (age 65 years), Seattle, Washington, United States
Do you know the actual name of Bill Gates? It's William Henry Gates III, who is a business magnate, software developer, and a great follower of humanitarianism. Although a Harvard dropout, he eventually went on to co-found Microsoft, and from 1995 to 2017, he was the richest guy according to Forbes magazine in the world until overtaken by Jeff Benzos and Elon Musk. Now he has an estimated wealth of around 120.3 billion US dollars and is the provider to the world's largest private charity- Bill & Melinda Gates Foundation. He is a proverbial man in the business world, the first man who changes a business leader's traditional style.
Born: January 12, 1964 (age 57 years), Albuquerque, New Mexico, United States
At the heart of American entrepreneurism is the American dream, and Jeff Benzos fits that criteria into a fine mold. He is the CEO of the biggest retail industry globally, but he is also one of the richest men on the planet. With a net worth of a mind-boggling number of 185.7 billion dollars and is the first man on the planet to do so. In late 1993, Bezos decided to establish an online bookstore. He left his job at D. E. Shaw and founded Amazon in his garage on July 5, 1994, after writing its business plan on a cross-country drive from New York City to Seattle. Prior to settling on Seattle, Bezos had investigated setting up his company at an Indian reservation near San Francisco in order to avoid paying taxes!
Born: August 30, 1930 (age 90 years), Omaha, Nebraska, United States
Warren Edward Buffett is an American investor, business tycoon, philanthropist, and the Chairman and CEO of Berkshire Hathaway. By profession, he is an investor. In the notion of founder centrism, Buffet is the biggest shareholder of the company Berkshire Hathaway and has amassed a fortune of US$ 85.6 billion over the course of his tenure of being an investor. Warren Buffett belongs to an exceptional Investment philosophy. His writings include his annual reports and various articles. Buffett is recognized by communicators as a great story-teller, as evidenced by his annual letters to shareholders. He is always used to give advice, warning, and explanation. This part of his character makes him an exemplary business leader in the world.
Born: September 10, 1964 (age 56 years), Hangzhou, China
Jack Ma was the first entrepreneur from mainland China to appear on the cover of Forbes magazine. He is also the founder of Alibaba Group, a group of internet companies. Before getting accepted to Hangzhou Teacher's Institute, Ma was rejected from university three times. After graduation, he applied for 30 jobs and was turned down for all of them. He first learned about the internet during a short trip to the U.S., and when he returned home, he created a small website about China and Chinese products. This would be his first step towards creating a company that would hold the record for the largest IPO in history.
As of January 2021, with a net worth of $61.4 billion, Ma is the third-wealthiest person in China (after Zhong Shanshan and Ma Huateng), as well as one of the wealthiest people in the world.
Jack Ma is the founder of the Jack Ma Foundation, a philanthropic organization focused on improving education, the environment, and public health. In 2008, Alibaba donated $808,000 to victims of the Sichuan earthquake. In 2009 Jack Ma became a trustee of The Nature Conservancy's China program, and in 2010 he joined the global Board of Directors of the organization.
Born: February 20, 1970 (age 51 years), Tai'an, China
Eric Subrah Yuan is a Chinese-American billionaire business leader, and the CEO and founder of Zoom Video Communications, of which he owns 22%, with a net worth of US$15 billion as of January 2021.
After earning his master's degree, Yuan lived in Beijing and attended a training program in Japan for four months. Inspired by Bill Gates, who spoke in Japan in 1995, he moved to Silicon Valley in 1997 to join the tech boom. At the time, Yuan spoke very little English and applied nine times before being granted a visa to the United States.
Upon arriving in the US, Yuan joined WebEx, a web conferencing startup, where he was one of the first 20 hires. The company was acquired by Cisco Systems in 2007, at which time he became vice president of engineering. In 2011, Yuan pitched a new smartphone-friendly video conferencing system to Cisco management. When the idea was rejected, Yuan left Cisco to establish his own company, Zoom Video Communications.
In 2019, Zoom became a public company via an initial public offering, at which time Yuan became a billionaire. His wealth has increased during the COVID-19 pandemic, as Zoom has benefited from the shift to online work and teaching. On September 1, 2020, Yuan's net worth was estimated to be US$16.4 billion, a figure 360% higher than his net worth at the beginning of the year.
Born: February 10, 1951 (age 70 years), New York, New York, United States
Robert Allen Iger, known as Bob Iger is the Executive Chairman and former CEO of the Disney Corporation. He has led the acquisitions of major companies like Marvel, Pixar, and, most recently, Lucas Films. His leadership has also led to the expansion of Disney's theme parks into Shanghai and Hong Kong.
Iger began his media career in 1972 as the host of Campus Probe, an Ithaca College television show. He dreamed of becoming a news anchor while he worked as a weatherman in Ithaca for five months, before shifting his career goals.
In May 2015, Iger was named to the 25th Annual Broadcasting & Cable Hall of Fame. In October 2015, the Toy Industry Association (TIA) inducted Iger into the Toy Industry Hall of Fame. He was selected by members of TIA in recognition of his contributions to the industry, and the impact his work has had on the lives of children worldwide.
In December 2019, Iger was named by Time as their Businessperson of the Year. In 2020, he was inducted into the Television Hall of Fame
Born: June 28, 1971 (age 49); Pretoria, South Africa
He is a business magnate, industrial designer, and engineer. Currently, he serves as the CEO and CTO of SpaceX and CEO of Tesla, Inc, and the founder of The Boring Company, which oversees the intra-city structure travel system. As the 25th most powerful people according to Forbes magazine, his net worth is estimated to be 209 billion dollars. Musk became the richest person in the world in January 2021. He received his BA in economics and physics from the University of Pennsylvania. His enormous influence and mass appeal make him a terrific role model, and as human civilization moves forward, we will see more to come from him as the SpaceX program takes its full effect. His grand vision of colonization of Mars through aerospace transportation has helped humanity and the source of making life viable even outside the planet a reality.
Born: November 1, 1960 (age 60 years), Mobile, Alabama, United States
Timothy Donald Cook is an American philanthropist, billionaire business leader, and engineer. He is currently the CEO of one of the most profitable organizations in the world, Apple. Having a net worth of 1.3 billion dollars also makes him one of the wealthiest people in the present. He also serves as a member of the board of directors of Nike, Inc, National Football Foundation, and the trustee of Duke University. Prior to joining Apple, Tim was vice president of Corporate Materials for Compaq and was responsible for procuring and managing Compaq's entire product inventory.