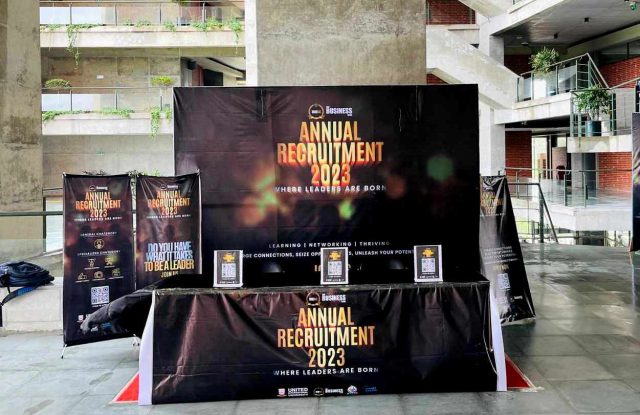 The UIU Business Club Annual Recruitment 2023 was an incredible journey that brought together aspiring individuals who share our passion for business and the drive to make a meaningful impact. Our goal is simple: to create leaders who not only excel academically but also possess the practical skills needed to thrive in the real business world.
This year, our focus was on discovering and nurturing the incredible potential within our fellow students to become leaders of the business world.
Our club serves as a platform where we not only learn about the theories and concepts of business but also explore their practical applications in the real world. We firmly believe that it is through hands-on experience and exposure to industry insights that we truly grow as future business leaders.
During the recruitment process, we had the privilege of meeting exceptional individuals from UIU who exhibited a true passion for the Corporate & Business World. We saw their potential, their drive, and their hunger for success. It is our goal to provide them with the guidance, mentorship, and resources they need to transform into the confident and capable leaders they aspire to be.
As members of UIU Business Club, we don't just learn about business; we become a close-knit community that supports and encourages one another. Through engaging workshops, thought-provoking guest lectures, and interactive sessions, we foster an environment where everyone's ideas and perspectives are valued.
We are excited to welcome our new recruits, as they bring fresh perspectives and diverse experiences to our club. Together, we will embark on a journey of growth, exploration, and learning. We firmly believe that by harnessing our collective potential, we can create a lasting impact in the business world.
We extend our heartfelt gratitude to all those who supported us throughout the recruitment process, including our dedicated club members, faculty advisors, and the entire UIU community. It is your unwavering support that enables us to create an environment where future business leaders can thrive.
We look forward to an incredible year ahead, full of opportunities for personal and professional growth.
Together, let's unleash our potential, explore new horizons, and make a difference in the business world.