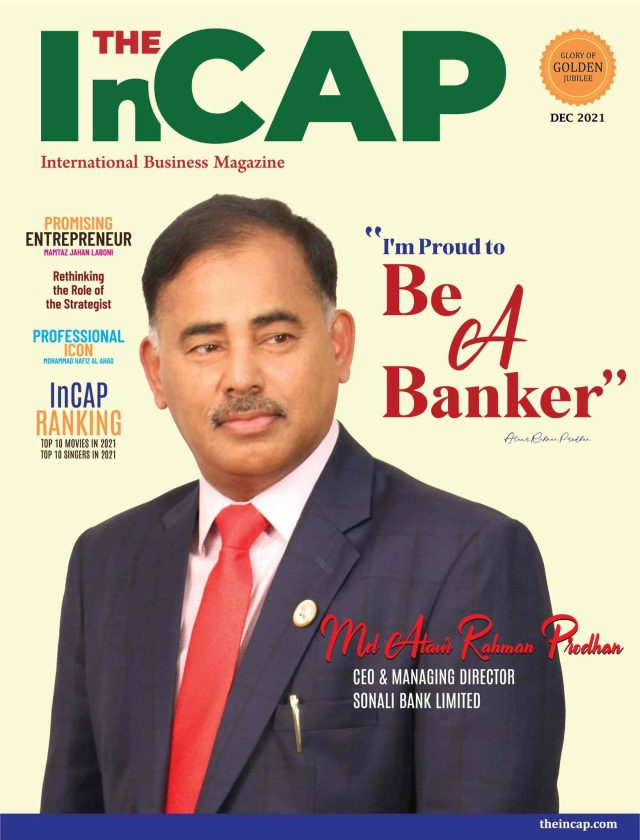 On The Cover & Cover Story:
"I'm Proud To Be A Banker"
Md. Ataur Rahman Prodhan
CEO & Managing Director
Sonali Bank Limited
Professional Icon
Mohammad Hafiz Al Ahad
Head of Human Resources
LankaBangla Finance Limited
Fashion & Profession
An Aesthetic Man: Md. Shafique Hasan John
Deputy Manager-IT
Shanta Securities Limited
Sanctuary of Entrepreneur
Mamtaz Jahan Laboni
Owner of Labony's Dine
Scratch
Rethinking The Role of The Strategist
Developing Signature Strengths
Why Career Background Matters?
InCAP Ranking
Singer's Ranking
Movie Ranking
December 2021 Issue of the printed version of The InCAP is now available in Bangladesh, USA, UK, India, Canada, and Singapore.
In Bangladesh, you can get your copy from Pathok Somabesh, Bangle Boi, Diponpur, and many more magazine-stands entire the country. You can contact our corporate office or dial +880 1712 500237 to collect your copy.
What are you waiting for? Collect your copy, NOW!