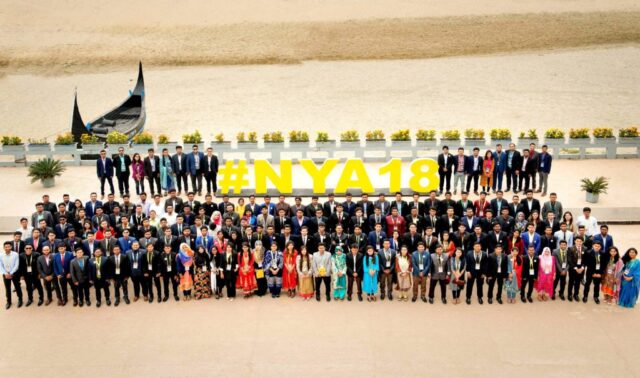 Korvi Rakshand Dhrubo
Founder of JAAGO Foundation
Prosperity cannot come alone, it has to be brought by someone like Korvi Rakshand Dhrubo. He is a warrior who fights for ensuring the human right. Now a large group of people is with him under the name of "JAAGO Foundation" aims to create a society – free of exploitation, discrimination, and violence, to enable it to reach its ultimate socio-economic potential – to bring about substantial improvement in the lives of disadvantaged people/children with special emphasis on their education and nourishment.
Korvi Rakshand and JAAGO Foundation, We all know these two entities are entirely inseparable. You are the magnificent leader who brought the revolution throughout the world with a nonpareil tag 'Breaking the Cycle of Poverty through Education. We are keen to know the behind story of this revolution.
I was a just regular person studying Law and expected to take over my family business after graduating. I had been involved in some minor philanthropic activities during my college years. While doing so got so know closely the sufferings of the underprivileged. From then, I was determined to do something for the deprived community. With few friends thinking likewise, JAAGO was established in 2007 with a motto- "to break the cycle of poverty through education and rebuilding our nation." JAAGO Foundation aims for the betterment of the nation through catering the educational needs of children from socially and economically disadvantaged background and empowering the youths along with inspiring volunteerism in Bangladesh. JAAGO Foundation is currently operating 12 schools across Bangladesh and providing free of cost quality education to 3500 children from the underprivileged community of Bangladesh. Besides, there are 35,000 registered volunteers who are actively working relentlessly to make their community a better one though different events and campaigns in 32 districts of Bangladesh
How many employees and volunteers do you have?
Currently, around 400 employees are working on the payroll of JAAGO. 61% of them are female, and 39% of them are male employees. We have 35,000 registered volunteers.
From April 2007 to till today – How is the journey with JAAGO?
It is bittersweet. I fought, I failed, I taught, I learned, but most importantly I never gave up. With every failure, I learned something new and new ways to do things.
Who are your role models or mentors?
My role model is the Father of the Nation Bangabandhu Sheikh Mujibur Rahman. Going against everything and every power he raised his voice for the country. He could have a happy life with his loving family. But he chooses to fight for the people. He taught us how to put the country and the people fist and how to turn a dream into an achievement.
What is your greatest accomplishment till today?
One of our first batch students, Siam – is going to UWC College for two years on a full scholarship. A child who is from the most underprivileged part of Dhaka is going to America to pursue his dreams. There was a time whenever anyone asked Siam that what he wants to be when he gets older – His Answer was he wants to be a CNG driver. Now that same boy is going to a renowned college in America with a full scholarship. This shows the power of education, and this is what I consider our greatest accomplishment.
Where and how do you want to see JAAGO Foundation in the next ten years?
In the next ten years, I want to reach all the hard to reach area of Bangladesh. There are still places where the ray of proper education could not reach yet. I believe through JAAGO Digital School, we can remove the darkness and build a better Bangladesh.
You are one of the outstanding young leaders in Bangladesh. You have seen the marginal and root level people of your country with your sentinel eyes. What's your personal statement concerning them?
Despite facing thousands of problems every day, the commoners of Bangladesh are still happy because they know how to find happiness in small things. The people of this country know how to dream, and every day they are fighting to full fill their dream. And I believe their dream can only come true the day we will be able to take education in every corner of the country and every single child will be educated enough to pursue their dream.
Say something to the youth amid the world.
Do not go with the trend just because it is fun. If you genuinely believe in something, go for it. You might fail but remember every time you fail, you will learn this was not the right route. Eventually, you will find the right way and achieve your goal. Do not stop, keep going, and always remember your root.