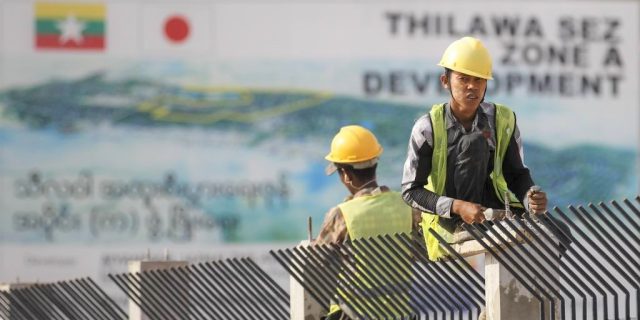 An image has been viral that summarizes trucks of Metro company lined up in front of the German wholesaler at Metro's warehouse on the outskirts of Yangon, Myanmar's capital. Metro has already announced plans to close its business in Myanmar. "Our last delivery is Friday," Nikkei, a security guard in front of the warehouse, told Asia on 28th October.
Myanmar has been under military rule for the past ten months. The incidence of human rights violations in the country is constantly increasing. With that, the wheel of the economy is slowing down. In such a situation, foreign commercial companies are leaving this country of Southeast Asia one by one.
In November, a recent Metro message said, "They are leaving despite the considerable investment and business environment. Currently, Myanmar is not in a position to do business while maintaining standards."
Metro started its business in Myanmar in 2019. The company has been providing food at the local hotel restaurant, a joint venture with Yoma Strategic Holdings of the local Yoma Group. The two organizations also received financial support from the International Finance Corporation (IFC) of the two World Banks to improve food quality and improve Myanmar.
Melvin Pan, chief executive of Yoma Strategic Holdings, complained that the Corona epidemic had reduced demand in hotels, restaurants, and cafes. Hence, we have stopped working," he said. The Nikkei report further states that Germany's 'Metro' and other European businesses are moving away from Myanmar on human rights issues. Last July this year, Norwegian telecom company Telenor Group said it would sell its mobile operations in Myanmar for 105 million. They were pressured by the Myanmar army to use intelligence equipment.
Similarly, British-American Tobacco plans to leave Myanmar later this year, the report said. European companies and India's Adani Ports and Special Economic Zone also announced that they would withdraw their investment from Myanmar. "We are considering the situation, but it has been decided to work on withdrawing investment from Myanmar," the agency said in a statement.
According to the Department of Investment and Company Administration, as of last September, there were 1,083 foreign-invested projects in Myanmar. Now, most of the institutions are considering the situation in the country. "I can't convert local currency into dollars," a Myanmar importer told the media on condition of anonymity. Additionally, according to the International Monetary Fund (IMF), Myanmar's economy will shrink by 0.1 percent in 2022. However, it may increase by 2.5 percent in 2023-2028.
While foreign companies are leaving Myanmar one by one, Japanese companies are divided over this. When Myanmar embarked on democracy in 2011, the Japanese government extended a helping hand. As a result, Myanmar has more Japanese businesses than Europe or the United States.
"We have invested so much in Myanmar that there is no way out," said a top executive. The military authorities have said that national elections will be held in Myanmar in 2023. So some organizations are thinking of staying there till at least that time.
However, many analysts believe that those who continue to do business in Myanmar are at "extreme risk" on the one hand, and on the other hand, they are helping the human rights abuses there. It's time to hope for the best.