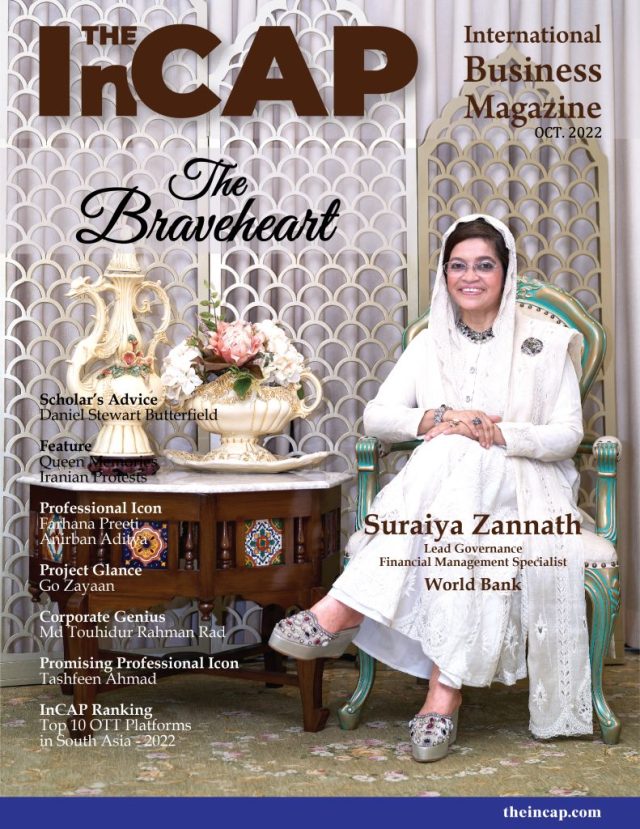 On The Cover & Cover Story:
The Braveheart: Suraiya Zannath
Lead Governance & Financial Management Specialist
World Bank
October 2022 issue of the printed version of The InCAP is now available in Bangladesh, USA, UK, India, Canada, and Singapore.
You can get your copy in Bangladesh from InCAP Corporate House, Pathok Somabesh, Bangle Boi, and many more magazine-stands throughout the country.
Contact our corporate office or dial +880 1712 500237 to collect your copy.
Why are you waiting for? Collect your copy, NOW!
Scholar's Advice
Daniel Stewart Butterfield
Feature
Queen Memories
Iranian Protests
Cover Story
Suraiya Zannath
Punches
Professional Icon
Farhana Preeti
Anirban Aditya
Project Glance
GoZayaan
Corporate Genius
Md Touhidur Rahman Rad
Promising Professional Icon
Tashfeen Ahmad
Business Graffiti
InCAP Ranking 
Top 10 OTT Platforms in South Asia – 2022
Book Recommendation
Tributes