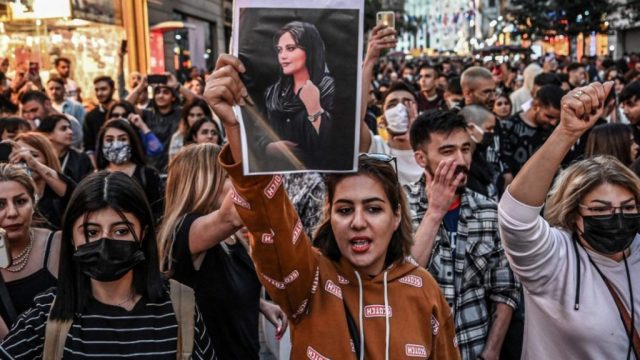 On September 16, 2022, a 22-year-old Iranian woman, Mahsa Amini died in Tehran, Iran, under suspicious circumstances, potentially due to police brutality. The Guidance Patrol arrested Ms. Amini, a vice squad of the Law Enforcement Command of the Islamic Republic of Iran overseeing the public implementation of hijab regulations, for non-compliance of her hijab with government standards. The article portrays the Death of Mahsa Amini.
Police said she suddenly went into heart failure at a station, fell on the floor, and died after two days in a coma. Eyewitnesses and women who were detained with Ms. Amini said she was severely beaten, which in addition to her leaked medical scans, led others to diagnose cerebral hemorrhage and stroke. Ms. Amini's death resulted in large-scale protests across the country. In addition, it garnered international attention, including a statement from the United Nations High Commissioner for Refugees focusing on violence against women in the Islamic Republic of Iran. 
What was the other's reaction?
Several leaders, international organizations, and celebrities commented on the incident, condemning Iran's Morality Police for its treatment of women and expressing solidarity with the protestors. Furthermore, the United States Department of the Treasury imposed sanctions on the Morality Police and Iranian leaders in various security organizations.
In response to the protests, the government of Iran not only suppressed the demonstrations, shooting protestors with birdshot and metal pellets, deploying tear gas and water cannons, but also blocked access to many apps, including Instagram and WhatsApp, and limited internet accessibility to reduce the protesters' ability to organize. These may be the most severe internet restrictions in Iran since 2019, when the internet was shut down completely.
Protest on the roads
On September 17, hours after Mahsa Amini died, demonstrators gathered outside Kasra hospital in Tehran, where Amini had been treated. Human rights groups reported that security forces deployed pepper spray against protesters and that several were arrested. Then a series of protests broke out over Amini's death, including in Saqqez, her hometown. Some shouted "death to the dictator" and Kurdish feminist slogans such as "woman, life, freedom."
From September 18, protests and marches spread daily in different cities. The streets of Sanandaj were partially closed, and security forces were scattered throughout the city following a night of protests against the Islamic Republic of Iran's strict dress code.
According to the Hengaw Human Rights Organization, security forces fired on protesters in Kurdistan on September 19, killing five—two in Amini's hometown, Saqqez; two in the town of Divandarreh; and one in Dehgolan. Popular demonstrations spread to other cities of Iran, including Tehran, Rasht, Esfahan, Karaj, Mashhad, Sanandaj, Saqqez, Ilam, and many other cities, and the special police of the Iranian government dealt with these protests severely as a result of which many were injured, and some political activists were arrested.
On September 20, the protests continued, and people marched in Tehran, Sari, Tabriz, Mashhad, Qom, Kerman, Hamedan, Sanandaj and Kish, and many other cities chanting slogans against the mandatory hijab and the principle of Islamic government. In Sari, women burned their hijabs on a bonfire to cheer crowds. In addition, protestors in Toronto, Istanbul, London, and other European and American cities gathered and condemned the Islamic government's crimes against women in Iran. The government confirmed that three people were killed in the protests. On September 22, protesters in Tehran and other cities burned police stations and cars.
Protests on social media
Amini's beating and death caused widespread anger on several social networks. #MahsaAmini became one of the most repeated hashtags on Persian Twitter. The number of tweets and retweets of these hashtags exceeded 10 million. Some Iranian women posted videos of themselves cutting their hair in protest. It was reported on September 21 that the Iranian government had blocked internet access to Instagram and WhatsApp and disrupted internet service in Kurdistan and other parts of Iran to silence the unrest.
Sanctions
On September 22, 2022, the United States Department of the Treasury announced sanctions against the Morality Police as well as seven senior leaders of Iran's various security organizations for violence against protestors and the death of Mahsa Amini.
These include Mohammad Rostami Cheshmeh Gachi, chief of Iran's Morality Police, and Kioumars Heidari, commander of the Iranian army's ground force. In addition to the Iranian Minister of Intelligence Esmail Khatib, Haj Ahmad Mirzaei, head of the Tehran division of the Morality Police, Salar Abnoush, deputy commander of the Basij militia, and two law enforcement commanders, Manouchehr Amanollahi and Qasem Rezaei of the LEF in Chaharmahal and Bakhtiari province of Iran.
The sanctions would involve blocking any properties or interests in property within the jurisdiction of the US and reporting them to the US Treasury. Penalties would be imposed on any parties facilitating transactions or services to the sanctioned entities.
To read more Editorials, Please Click Here!