The much-awaited Padma Bridge was inaugurated on June 25, 2022, by Honorable Prime Minister Sheikh Hasina. The inauguration program started at 10:00 am. PM Sheikh Hasina expressed her deepest gratitude to the people involved with the construction of Padma Bridge, including the project authority, consultants, contractors, workers, and army personnel who provided security. The article contains Padma Bridge Opening: A Dream Come True For Bangladesh.
At the Padma Bridge opening ceremony, she quoted, "This bridge is not just bricks, cement, iron, and concrete. This bridge is our pride, a symbol of our capacity, our strength, and our dignity. This bridge belongs to the people of Bangladesh." On the occasion of the Padma Bridge opening, PM released a Tk. 100 commemorative note. Moreover, the Chinese contractor of Padma Bridge occasionally presented a replica of the bridge to the Prime Minister.
About 14,000 workers and engineers built Padma Bridge in nearly seven years, six months, and 27 days. It is a dream bridge for every person in Bangladesh because it will not only establish the long-awaited direct road and rail communications between the capital city and southwestern parts of Bangladesh, but also it will contribute to more excellent connectivity and trade among Asian countries. However, the journey was not so smooth. Here is the timeline of Padma Bridge: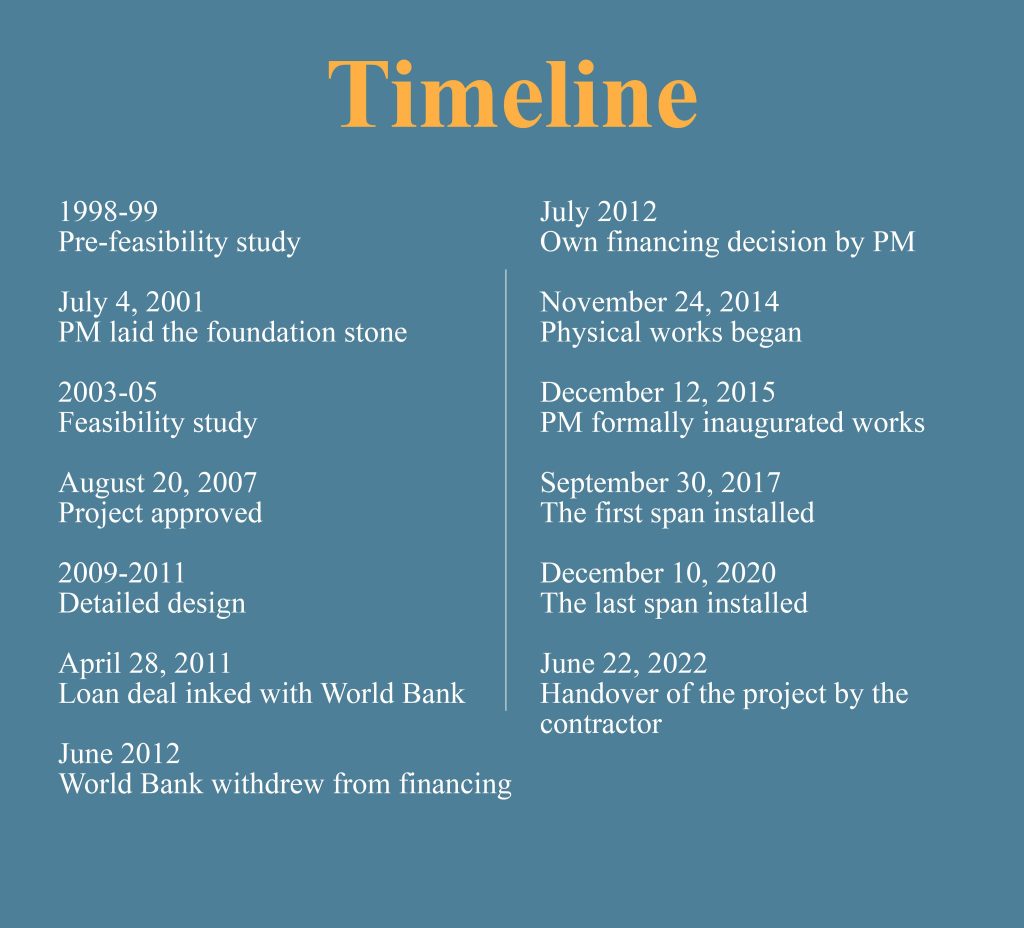 Padma Bridge At A Glance:
The bridge is one of the nation's leading structures in terms of infrastructure. It was developed by piling a 40-story skyscraper submerged in the Padma River, which has 41 spans set on 42 pillars. Each span's length is 150 meter, and the total weight of the entire span is 1,16,388 ton. The bridge is 6.15 kilometers in length overall. A single-lane, broad-gauge railroad will be built on the lower level of the two-tiered bridge, and the upper level features a 22-meter wide, four-lane road. In addition, there are flyovers and railroads at both ends of the bridge.
Benefits:
Twenty-one districts in the southwest will immediately profit from the development of the Padma Bridge. The agro-industry will experience a tremendous increase in development speed across all sectors. The country's primary production hub will be in this area. These regions generate mainly agricultural and perishable items, which may be swiftly transported to the city. Direct access between the capital city and Chittagong connects the entire nation to the land ports of Payra, Mongla, and Benapole.
It would be a fantastic opportunity to link with the South Asian countries, including internal contact between them, as the eagerly anticipated Padma Bridge and the associated road are part of the Asian Highway Route AH-1. The bridge will also link India, Bhutan, and Nepal to the Trans-Asian Highway and Railway. These routes will result in an expansion of the tourism industry. The Padma Bridge is predicted to significantly impact Bangladesh's growth and economy between 2035 and 2040.
To explore more Editorials, Please Click Here!