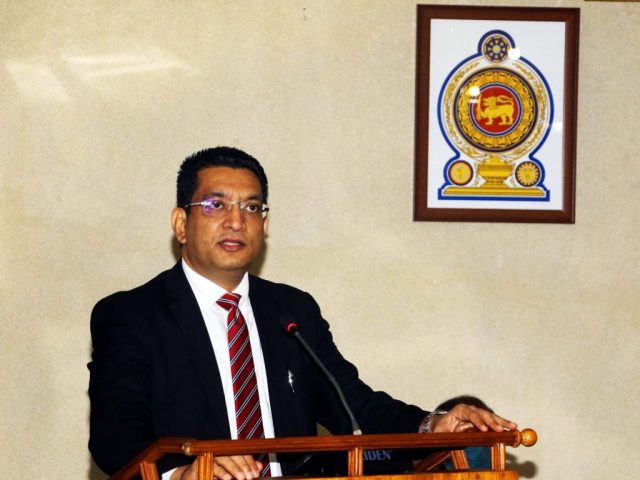 According to Finance Minister Ali Sabry, Sri Lanka will require roughly $3 billion in foreign aid over the next six months to help restore basic supplies like gasoline and medication. Power outages and shortages have enraged the island nation's 22 million residents, drawing demonstrators to the streets and putting President Gotabaya Rajapaksa under increasing strain. The article is about Sri Lanka Seeking $3bn To Stave Off Crisis.
"It's a Herculean task," said Sabry in his first interview since taking office this week, referring to finding $3 billion in bridge financing as the country prepares for negotiations with the International Monetary Fund (IMF) in April 2022.
The country plans to restructure foreign sovereign obligations and seek a payment moratorium, and it is optimistic that it will be able to reach an agreement with bondholders on a $1 billion payment due in July. "The entire effort is not to go for a hard default," Sabry said. "We understand the consequences of a hard default." According to J.P. Morgan analysts, Sri Lanka's gross debt servicing is expected to be $7 billion this year, with a current account deficit of roughly $3 billion.
Central bank data source confirms that the government has $12.6 billion in outstanding international sovereign bonds and $1.9 billion in foreign reserves at the end of March. "The priority is to see that we get back to the normal supply channel regarding fuel, gas, drugs, and thereby electricity to address the people's uprising," Sabry said.
The IMF said that it had begun technical discussions with officials from Sri Lanka's finance ministry and central bank in preparation for a loan program, adding that it was "extremely worried" about the ongoing situation. "We promise to support Sri Lanka following our principles and will engage in negotiations on a possible program with top officials in the next days and weeks," said Masahiro Nozaki, the IMF's Sri Lanka mission leader.
Sense of Confidence
For days, antigovernmental rallies have raged around the island, with at least one becoming violent in Colombo, the country's commercial center, hurting the prosperous tourism economy wrecked by the COVID-19 outbreak. "We recognize your freedom to demonstrate, but no violence," Sabry added, adding that violence is unproductive. "Our tourism, which was recovering brilliantly in February with 140,000 visitors, has been seriously harmed since the demonstrations."
Sabry said he will head a Sri Lankan team to Washington on April 18 to begin negotiations with the IMF and that financial and legal consultants will be chosen within 21 days to help the government restructure its foreign debt. "Once we go to them, the first thing is there is a sense of confidence in the entire international monetary community that we are serious," he said. "We are transparent; we are willing to engage." In an unprecedented move, a new central bank governor boosted interest rates by 700 basis points to rein in spiraling inflation and stabilize the economy.
According to Sabry, Sri Lankan officials would also contact rating agencies as the government tries to reclaim access to international financial markets after being barred since 2020 owing to numerous rating downgrades. In addition, Sabry said the administration will raise taxes and gasoline prices within six months and strive to overhaul loss-making state-owned firms to repair public finances. These steps were among the principal recommendations of an early March IMF examination of Sri Lanka's economy.
"These are very unpopular measures, but these are things we need to do for the country to come out of this," Sabry said. "But the choice is done; you do that or go down the drain permanently?"
Friend Of All
Sri Lanka will request a $500 million credit line from India for petroleum, Sabry added, covering around five weeks' worth of needs. The government will also seek assistance from the Asian Development Bank, the World Bank, and bilateral partners such as China, the United States, the United Kingdom, and Middle Eastern countries.
Sabry said, "We know where we are, and the only thing we can do now is fight back." "We don't have an option." China is negotiating a $1.5 billion credit line, a syndicated loan of up to $1 billion, and a debt restructuring request made by Sri Lanka's president in January. "Hopefully, we will be able to get some relief, which would help keep the Sri Lanka community and the country afloat until larger infusions come in," Sabry said. Beijing and New Delhi have long fought for control of the strategically positioned island off India's southern point, with the strong Rajapaksa family pushing the nation closer to China.
However, as the economic situation has worsened, Sri Lanka has relied significantly on Indian help in recent weeks. "We are an impartial country. We are everyone's buddy "Sabry, a lawyer who formerly served as Sri Lanka's justice minister, echoed this sentiment. "Thus, we believe that benevolence will be useful at this time."
To explore more economical articles, Please Click Here!