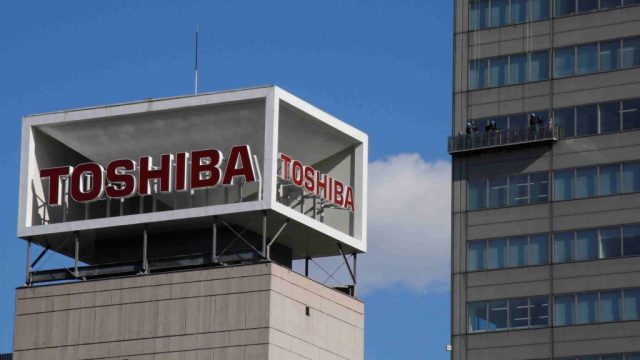 Toshiba Corporation stated on 7th February 2022 that it will now split into two firms rather than three and a significant increase in anticipated shareholder distributions in a bid to pacify enraged shareholders. Sources confirm that Toshiba to divide into two, upgrades shareholder return targets.
Foreign hedge funds, many of which have been opposed to any form of separation and would prefer that the scandal-plagued Japanese giant be taken private, are anticipated to oppose the new plan. Toshiba's devices division will be spun off as part of the recent restructure. Its original strategy was for a three-company split, with one firm handling devices, another handling energy, and infrastructure, and a third housing Kioxia flash memory chip assets.
Toshiba also plans to increase shareholder returns to $2.6 billion over two years, up from an earlier target. Following the announcement, shares of the industrial group ended 1.6 percent higher.
The current proposal will require approval from a little over half of the shareholders, whereas the earlier plan, which offloaded a significantly more significant percentage of assets, would have required two-thirds. Toshiba maintained that the new approach was more straightforward, would save money, and make it easier to explore strategic collaborations.
"We have not changed the plan to avoid confrontation with shareholders," CEO, Satoshi Tsunakawa told a briefing on the first of two days of meetings with investors, adding the plan would be put to the vote at an extraordinary general meeting in March 2022.
Sources at two investors, who asked not to be identified, said the company would still struggle to secure activist shareholder support for the amended proposal.
Following years of accounting scandals and governance concerns that eroded investor trust and saw Toshiba's market value more than drop, to approximately $18 billion, from an early 2000s peak, the original break-up proposal was unveiled last November 2021 after a five-month strategic assessment.
One of the individuals added that whether the company is ultimately succeeding in gaining enough support for its amended proposal might be determined by the advice of important proxy consulting companies such as Institutional Shareholder Services.
Toshiba has a tumultuous relationship with its foreign activist shareholders, who comprise over 30% of the corporation. Last year, a shareholder-commissioned study showed that the company conspired with Japan's trade ministry to prevent foreign investors from gaining sway at its 2020 shareholders meeting.
According to Chief Cabinet Secretary Hirokazu Matsuno, Toshiba's proposal would be monitored by the government. "Toshiba is a company possessing important technology including nuclear power and semiconductors that are related to national security, and it is important that the businesses are maintained and developed," he added.
The company plans to finish spinning off and listing its electronics unit by March 2024. Infineon Technologies (IFXGn.DE) and Mitsubishi Electric Corp compete in power management chips, efficiently controlling the electricity in automobiles, electronic gadgets, and industrial equipment. In the fiscal year ending in March, the company is forecast to generate net sales of 860 billion yen and operating profits of 55 billion yen.
Toshiba also said on the day that it will sell its elevator and lighting operations and that Toshiba Tec Corp, which manufactures point-of-sale systems and copiers, is no longer a core business. Toshiba Tec's stock completed the day up more than 14%, the most remarkable one-day rise in more than 20 years.
However, Toshiba stated earlier that it would sell virtually all of its 60 percent ownership in its air conditioning operation to Carrier Global Corp, a joint venture partner in the United States, for $870 million. Toshiba also stated that it is still considering selling its 40.6 percent share in Kioxia Holdings, the world's second-largest NAND flash memory chips producer, and has requested that Kioxia launch an initial public offering as soon as feasible.
To explore more Business Clouds, Please Click Here!