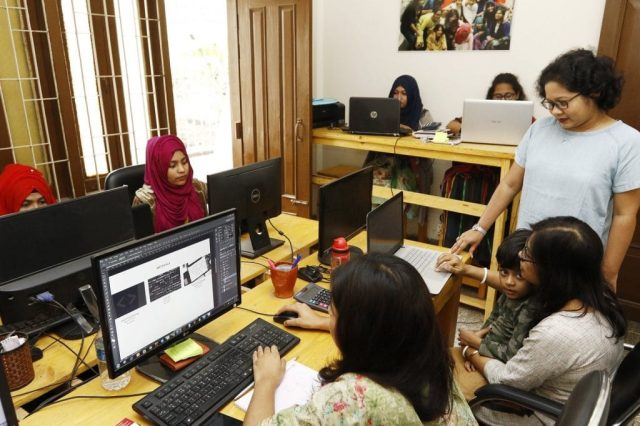 Now, the women in Bangladesh are no more lagging behind in the journey to becoming successful. Especially with the help of digital and technology, many women have now made their debut as entrepreneurs at home. From establishing the dream true, someone joined the Culinary Arts to create various cooking recipes and earn a considerable amount. What's more, someone has also built a shared office or office business or set up a training center. Also, someone has created their own brand of spices sitting at home and sold them. So, women are moving forward like sunshine. November 19 was International Women Entrepreneurs Day. So, it is time to appreciate women. 
Mrs. Achia Nila, a tech-savvy, is the founder of Women In Digital – Empowerment through Technology. As a skilled professional of digital production, she has set a remarkable footprint in the emerging technology market of Bangladesh. She shares her story to the press that when she had faced difficulty and struggles as a female in the technology industry, she instantly thought of doing something for women by helping them overcome their struggles.
Achia Nila said, "Our current government declared that they will create 'Digital Bangladesh, but I have not seen any specific initiatives for women. So, I asked my father, How are women ever going to bridge the digital divide without any Government initiative focused on them?" My father told me, "you are an engineer – take your own initiative, don't blame the Government!" From that discussion, I built my own business and took my company's name, "Women in Digital." The word "Digital" came from 'Digital Bangladesh' and "women" came from my struggles."
She graduated from United International University in Computer Science and engineering. Later on, she received her M.Sc in computer science and engineering from Daffodil International University. She has served in some internationally recognized organizations such as Dell, Microsoft, HP, Epson, Colgate, HillsPet, J&J, HTC, HSBC, Vodafone, Sony, Unilever, Betfair, and Nokia, etc. She successfully launched Maya, a Mobile application, a Bangladeshi app. She specializes in IT product development (like web, mobile app, and game) and Product management, project management, team lead, etc. However, Autodesk Maya is powerful software that enables 3D animation, modeling, simulation, rendering, and more. It's robust and versatile, and many consider it the industry standard for animation. Many well-known feature film studios use Maya, including Blue Sky Studios, Framestore, and Moving Picture Company. The application of free version is available as an online tool. Users need to create a Trimble account to access it, which gives you more facilities like a 3D warehouse, Trimble Connect, etc. There is also the option to sign in with your Gmail ID.
Recently she has joined as an international IT expert for International Telecommunication Union. She is the first woman in Bangladesh who selected for this honorable position. As a leading technological professional, Mrs Achia Nila is obviously one of the inspiring role models for women in the engineering education sector of Bangladesh.