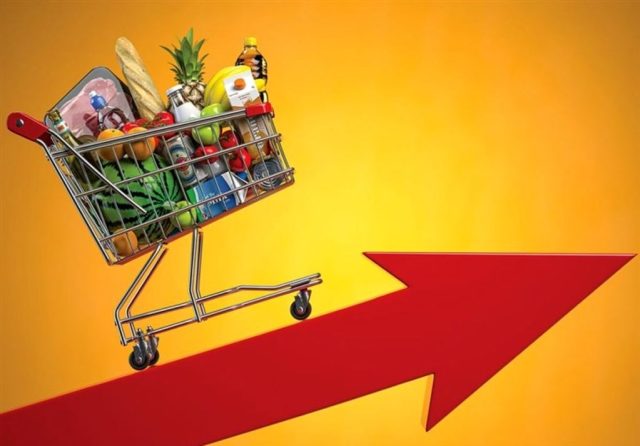 Before the month of Ramadan arrives, the continual rise in the price of necessary commodities has left fixed and low-income people under much pressure in Bangladesh. Along with rising prices for daily necessities like rice, edible oil, sugar, flour, and red lentil, price increases for diesel, liquefied petroleum gas, and transportation fares have exacerbated people's hardships in 2022. The Editorial is about How Can The Middle Class Survive!
After the diagnosis of coronavirus in the country in March 2020, commodity prices began to rise, and the trend has continued since then. However, despite claiming a surplus of rice and sufficient edible oil, sugar, and red lentil imports, the government has failed to maintain commodity prices consistent in local markets over the previous two years. Except for potatoes, winter vegetables saw a record increase in prices for the complete harvesting season, despite growers complaining that they were not obtaining fair pricing.
A CNG-driver, Md. Shahid said, "We, the poor people, are in distress with the prices of daily essentials. Can you imagine soybean oil is selling for Tk 180 a liter and a coarse variety of rice for Tk 70 a kilogram!" He added that it might never happen in the country that most vegetables were selling between Tk 60-70 a kg in the Dhaka city markets in the winter season.
Another local said, "We dropped beef and mutton from our menu long ago. But, now it is becoming difficult to consume broiler chicken and red lentils as the prices of these items are going up abnormally." He blamed abnormally high price hikes in necessary items on government organizations' lack of market supervision. Hence, he wants the government to take precautionary steps to reduce costs.
According to a joint poll released on November 4, 2021, by the Power and Participation Research Centre and the BRAC Institute of Governance and Development, the number of new poor in the country rose to roughly 3.24 crore due to the COVID-19 pandemic.
'If the government fails to regulate the pricing of key items, many of its achievements would be ruined,' said Ghulam Rahman, President of Consumers Association of Bangladesh. He believes that rising utility prices is not a good idea because it will exacerbate the problems of low-income individuals.
According to the Bangladesh Trading Corporation, if it comes to comparing the current price from March 2021, edible oil prices have jumped by 70%, rice by 23%, flour by 24%, and red lentil by 58%. Even after increasing the price of fuel oil, transport fare was also increased by 37-50 percent, taking a toll on the fixed income people.
Chart of Product's current and previous price: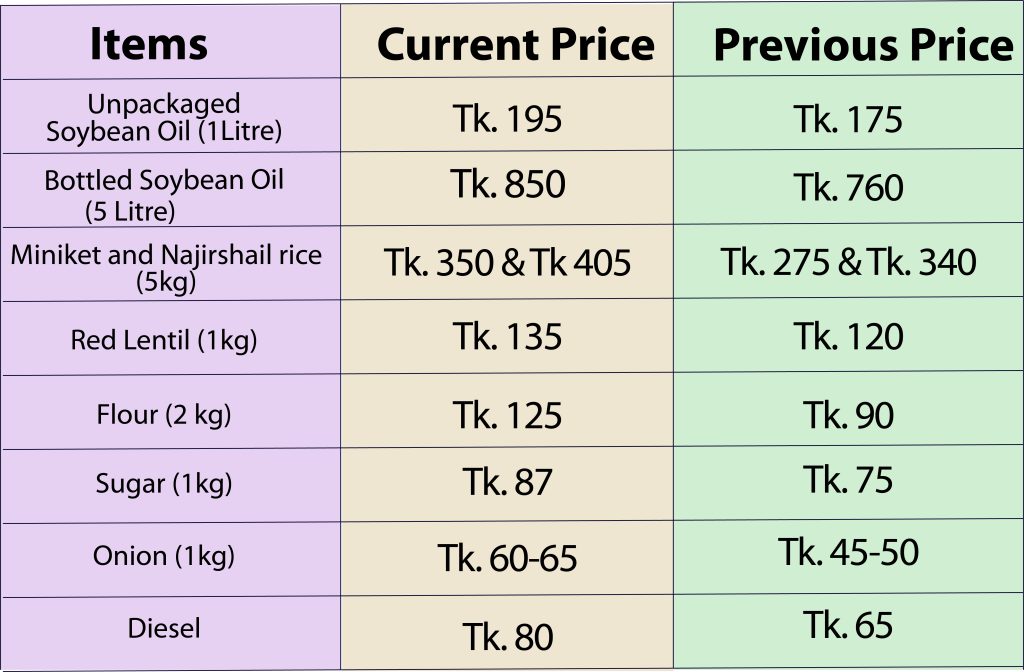 The overall scenery is devastating. However, experts say that the Russian invasion, which began on February 24, was not expected to immediately impact because such events often take three weeks to affect imports. Furthermore, other goods, such as lentils and chickpea, have not been imported from these two nations at all in the last eight months, but their prices have increased noticeably, they claim. On the other hand, traders noted that commodities prices, which were already climbing, saw another round of increases due to the supply chain disruption. Now middle class people are suffering.
To explore more Editorials, Please Click Here!