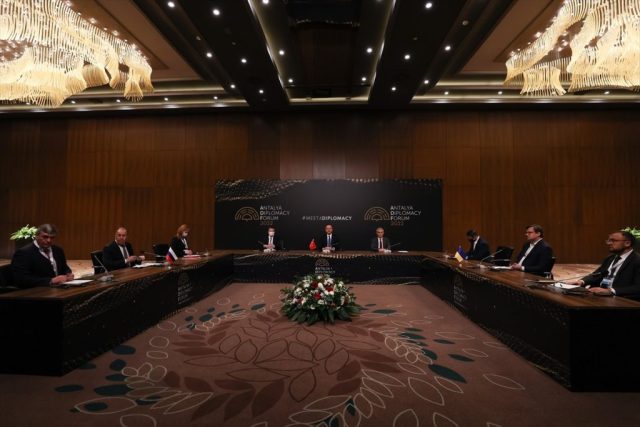 Russia's war in Ukraine entered its third week on March 10, 2022, with none of its stated goals met, despite thousands of deaths, over two million refugees, and thousands cowering in besieged cities under constant bombardment. Therefore, Russia's and Ukraine's foreign ministers met in Turkey on March 10, the highest level of contact between the two countries since the conflict began on February 24. So, Russia And Ukraine Foreign Ministers Meet.
In the meeting with Russia's Sergei Lavrov, Ukraine's Foreign Minister Dmytro Kuleba stated low expectations. Moscow, according to Russian negotiator Leonid Slutsky, "will not concede a single negotiating point." Previous talks have primarily focused on establishing limited local ceasefires to reach civilians in besieged cities, particularly Mariupol, a southern port where hundreds of thousands of people have been trapped with no access to water, medicine, or food apocalyptic conditions described by the Red Cross.
Ukraine claimed Russia committed genocide by bombing a maternity hospital on March 9, 2022. According to Russia, the building was no longer used as a hospital and had long been taken over by troops. However, Ukraine's foreign ministry released video footage of what it claimed was a hospital, showing holes where windows should have been in a three-story structure. Instead, the scene was littered with massive piles of smoldering rubble.
Moscow's stated goals of crushing Ukraine's military and removing its leaders remained elusive, despite Zelenskiy's unwavering support and Western military aid pouring across the Polish and Romanian borders.
Western countries have stated that they believe a planned lightning strike on Kyiv failed in the early days of the war and that Moscow has instead resorted to far more destructive attacks. According to the UK Defence Ministry, a large Russian column northwest of Kyiv has made little progress in over a week and suffered losses. It went on to say that as casualties mount, Russian President Vladimir Putin would have to call on troops from all branches of the military to make up for the losses.
Vladimir Putin has stated that his forces' advance in Ukraine is proceeding as planned and on time. Russia describes its incursion as a "special operation" to disarm its neighbor and depose "neo-Nazi" leaders. Western-led sanctions aimed at isolating Russia's economy and government from international financial markets have taken their toll, with the rouble plummeting and ordinary Russians rushing to stockpile cash.
Hospital Bomed
Despite a ceasefire agreement that allowed people to flee Mariupol, Ukrainian officials said Russian planes bombed the children's hospital, injuring pregnant women and burying patients in the rubble. According to the regional governor, 17 people were injured.
The attack reaffirmed the United States' warnings that the largest assault on a European state since 1945 could become increasingly attritional after Russia's early failures. The United Nations Human Rights Council stated that it was attempting to confirm the number of casualties. However, the incident "adds to our deep concerns about the indiscriminate use of weapons in populated areas," a spokesperson said.
The White House condemned the hospital bombing as a "barbaric use of military force to target innocent civilians." "That's how fake news is born," said Dmitry Polyanskiy, Russia's first deputy permanent representative to the UN, on Twitter.
Russia had previously promised to halt the firing so at least some of the trapped civilians could flee Mariupol. Instead, both sides blamed the other for the evacuation's failure. Children make up half of Ukraine's total refugee population of over 2 million. According to the International Committee of the Red Cross, houses have been destroyed across Ukraine. "Hundreds of thousands of people are without food, water, heat, electricity, or medical care," it said.
Ukraine's foreign minister, Kuleba, stated that the country is seeking a ceasefire, the liberation of its territories, and resolving all humanitarian issues. Moscow demands that Kyiv stop fighting, amend its constitution to declare neutrality, abandon plans to join NATO, and recognize Russia's rule in Crimea and the independence of regions held by Russian-backed separatists.
Russia has been hit by Western sanctions and the withdrawal of foreign firms, the most recent of which include Nestle, Philip Morris, and Sony. In addition, Rio Tinto was the first major mining company to announce on March 10 that it was severing all ties with Russian companies. The United States House of Representatives voted to expedite $13.6 billion in aid to Ukraine, sending the bill to the Senate.
To read more Political News, Please Click Here!