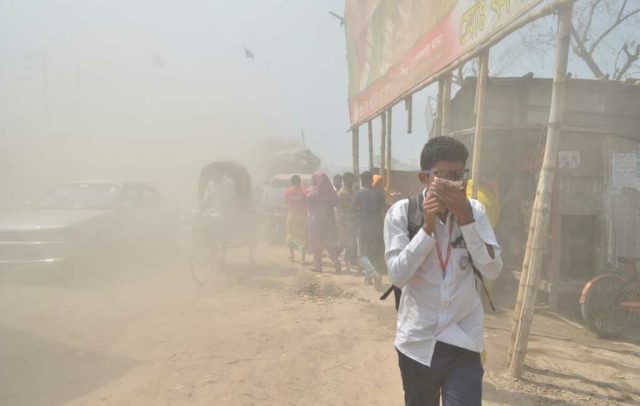 Bangladesh's long-standing bottom-of-the-table rating in terms of air quality has been a thorn in the government's side. However, it has failed to elicit the sense of urgency that such a serious public health crisis requires for some inexplicable reason. People of the country hope that this will change with the release of the latest World Air Quality Report, which ranked Bangladesh's air quality as the worst globally. The country has now received this ignominious distinction for the fourth year in a row, with capital Dhaka city, its crown gem, the world's second-most polluted capital city. The editorial is about Time To Combat The Dangerous Air Pollution Threat.
If received appropriately, the study should raise all warning bells in our policy circles. The dangers of air pollution as the world's most serious environmental health issue are undeniable since it causes seven million lives annually. Yet, PM2.5 air pollution was directly connected to the mortality of 40,000 children under five in only one year in 2021. Given the lack of disaggregated statistics, Bangladeshis can only speculate that their country is home to a substantial number of these deaths or other air-pollution-related health hazards. If that doesn't convince politicians, maybe the following discovery will: according to a recent assessment, dirty air reduces a Bangladesh's life expectancy by roughly three years, almost as much as cigarette usage.
Vehicle emissions, gasses from industries, brick kilns, vehicles, and dust accumulations from other sources are all major contributors to pollution, particularly in cities. There is no shortage of studies on their impacts, nor, at least on paper, of official responses to them. They have legislation, specific state agencies, a national action plan, and other measures to tackle air pollution. They frequently observe ritualistic demonstrations of action aimed at that goal. However, nothing appears to be functioning. They lack a thorough and coordinated effort to guarantee that all policies and initiatives are aimed at visibly improving air quality.
In addition, they encourage the administration to back up its words and actions with concrete preventative measures. Their air quality should be declared a national emergency, given the current condition. Simply enacting fines and penalties for corporations and people that violate pollution-related legislation can make a significant dent in present pollution levels. Shutting down all conventional brick kilns, phasing out old cars and the use of diesel in autos, and switching to cleaner fuel sources, are all must-dos. These are only a few measures that the government must take to counter this serious menace.
To read more Editorials, Please Click Here!