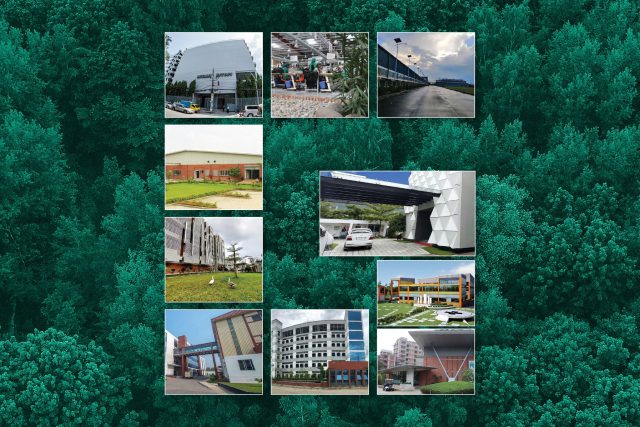 Environmental friendliness is a crucial factor for many customers. Currently, the garments sector is paying close attention to the issue of green manufacturing to go a long way and compete with other rivals because customers in key importing nations are now setting very high-quality green production standards on practically all items. Importers may lessen their impact on the environment while simultaneously improving the aesthetics of their products and using it as a competitive advantage in the market by collaborating with green garment factories. Businesses in the garment industry should rely on more than just a few eco-friendly activities that can help with an attention-grabbing marketing campaign to convey a genuine commitment to sustainability. Also, they must keep advancing the sector by utilizing technology, investing in more environmentally friendly procedures, assisting employees along the supply chain, and contributing to creating a circular fashion economy. There were 144 green buildings in the nation as of 2022. Forty-four of them are platinum-rated, while 93 are gold-rated. Up to 500 garment manufacturers are also in line for the USGBC to certify them as LEED facilities (USGBC).
Here is the ranking of the Top 10 Green Garments Manufacturers With Leed Certification In The World
Please Note: The InCAP offers this list of the Top 10 Green Garments Manufacturers With Leed Certification In The World. It's an analysis of the International Corporate Association of Professionals (InCAP), so there is no opportunity for debate centering on this ranking.
Corporate Office Address: 822/3, Begum Rokeya Sharani, Mirpur, Dhaka 1216, Bangladesh
Website: bitopibd.com
Bitopi Group and Misami Group have joined the fashion world, especially the younger generation. It is a continuously self-aware Company. Bitopi Group has since expanded beyond Apparel Manufacturing and Advertising to Event Management and the Fisheries & Agro sectors, employing 14,000 vital employees. The U.S. Green Building Council presented the LEED Platinum Certified Factory designation to Bitopi Group.
Bitopi Group started in 1968 with Bitopi Advertising Limited under the resolute leadership and vision of Reza Ali. In 1984, the Company made its foray into the new and young arena of readymade garments with Misami Garments Ltd. The Company gradually expanded into factories in the Comilla EPZ, Adamjee, and Manikganj; the original building in Shewrapara, Mirpur stands to this day. A continuously self-aware Company, Bitopi Group has since expanded outside of Apparel Manufacturing and Advertising to Event Management, and the Fisheries & Agro sectors, employing a workforce 14,000 strong employee.
Corporate Office Address: UCEP Cheyne Tower (3/4th Floor)25 Segunbagicha, Ramna, Dhaka-1000.
Website: ssgbd.com
The journey of Super Star Group began with a pretty simple vision; making world-class electronic products available for the people here in Bangladesh, certainly at an affordable price that will not be acceptable to everyone, but also leads the company to become the leader in its category of business. For over the last two decades the company under the brand name "SUPER STAR" has been a leading and successful manufacturer, importer, and marketer of electrical accessories and equipment.
In the year 1994, The company started its journey by establishing its first venture, an Incandescent lamp plant located at Narayanganj. The Company specializes in providing a wide range of lighting and other electrical solution for residential, commercial, and other special needs. The target of the company is simple, offering a wide range of high-quality lighting solutions for customers in Bangladesh, leading the lighting manufacturing industry and becoming the number one choice in both the household and industrial sectors of the country.
Corporate Office Address: Holland Center (8/9th Floor) Cha 72/1-B, Progati Sarani, Middle Badda, Dhaka.
Website: pioneerdenim.com
The Company has been awarded the World's largest Leed Platinum-certified textile mill. Pioneer Denim Ltd company always promises to give high-quality fabric to the best brands. The quality of their clothing has created a strong presence in the fashion industry. The Company has 150 acres plant, a 1.4 million sq ft manufacturing SUPERSTAR facility, and 40 million yards of fabric production capacity per year, expanding to 80 million yards in 2019. Also, the Company has Modern high-tech European and American Machinery.
Pioneer Denim Limited is an emerging state-of-the-art denim fabric manufacturing Company. Considering the competitive advantage of being vertically integrated with the group's largest spinning units in Bangladesh, Pioneer Denim assures its quality a step further in the denim fabric manufacturing market. From consuming our own yarn to having enthusiastic skilled manpower proving R&D, dyeing, weaving, finishing, and inspection all under the same production facility is our core strength.
Corporate Office Address: Red Crescent Concord Tower (8th Floors), Mohakhali C/A, Dhaka 1212.
Website: mj-group.com
Having more than 794,000 sft floor spaces, producing 20 million pieces of garments per year with modern machinery facilities,
M & J Group perfectly combines strength and expertise in garment manufacturing services suitable for industry needs. With the mission of providing top-quality services to its customers, the group always aims at improving efficiency of production processes using the latest technologies.
With 304 management and support staff in the corporate office and about 9,633 employees, they are a big team always at your service. Today, M & J Group is one of the renowned suppliers with respect to quality, and productivity and the most reliable apparel manufacturer providing high-quality garments to leading fashion brands like C&A, Celio, Diesel, GU, G-Star, Jack & Jones China, Jack & Jones Denmark, Lee, O'stin, Selected, Target Australia, Target USA, Wrangler & Zara in the Asia, Australia, Canada, Europe, and USA markets.
Corporate Office Address: Holding No 4/2 A, Gopalpur Munnu Nagar, Tongi, Gazipur Bangladesh
Website: ntg.com.bd
One of Bangladesh's largest textile industries is the Northern Tosrifa Group. They have been in the apparel industry for 32 years. Six units of production. Each year, 354 million clothes are made. They produce 35 tonnes of fabric each day. They received the BGMEA award for Best Environmentally Compliant Factory.
Northern Tosrifa Group is a group of companies; consist of knitting units, Dyeing & Fabric finishing units and several Garment manufacturing units. We are 100% export oriented company, exporting knit apparels all over the world, especially in Europe. The group is enlisted with BGMEA, BTMA & EPB. Right from the beginning, we were focused on exceeding our customer's expectations delivering right products in right time with excel quality and customer service. We are in this industry for 26 years and been giving back to the society within our best capacity.  We believe it's our responsibility to take care of the environment we are in. We have the first green dying project in Bangladesh. Our mission is to become the preferred name to our stakeholders also to EXCEED our customer's expectations delivering right products in right time with excel quality and customer service.
Corporate Office Address: Tower of Saiham, House -34, Road-136, Block # S.E. (C )-1, Gulshan-1, Dhaka-1212.
Website: saihamtower.com
Saiham Tower located at Gulshan, Dhaka, Bangladesh has achieved the Pre-certified Platinum level of LEED rating under Core & Shell Category of USGBC. The ample 105,134 square feet area facility incorporates optimization measures such as water use reduction, energy savings through efficient HVAC design, lighting design and environmentally friendly materials and finishes.
Saiham Tower is a very balanced and unique combination of aesthetics and functionality. The structure is a genuine "green" building since it conserves about 40% of the energy required for the structure. This lowers not just the power bill but also the water bill. Due to its architecture and the materials employed, the building produces the least amount of heat. The structure also collects rainwater.
For this, it contains a number of distinct chambers. For instance, by purifying the water first and then discharging it in a way that is environmentally friendly, the water used to wash our hands may be utilised again to irrigate plants. In addition, nobody really needs to keep the lights on throughout the day because the glass buildings let in plenty of sunshine.
Corporate Office Address: House 43/A, Road -24, Gulshan-1, Dhaka 1212.
Website: designerfashion.com.bd
Designer Fashion Limited (DFL) is a state-of-the-art, modern and efficient 100% export-oriented garment industry for production of quality woven garments for export to a global clientele. The industry is situated on 18 acres of land. DFL is in the process of obtaining Platinum LEED Certification from US Green Building Council.
DFL is an affiliate of renowned Bengal Group of Industries which is made up of a number of different industries that operate in diversified fields like plastic processing, chemicals, food, agro-products, cement, electronic media, real estate, retail, trading, banking, financial and insurance sector. The Group holds strong leadership position in the plastic sector of the country, being the largest manufacturer and exporter of plastic extruded and injection molded products. Further, it is one of the most admired business groups in Bangladesh for excellent corporate governance, management practice and social responsibilities. DFL is a reflection of the ambition and commitment of Bengal Group. Situated in the industrial location of Gohailbari, Savar, this modern facility is sprawling over a total area of 800,000 square feet.
Corporate Office: Address: 18/E, Kala Bagan, Dhaka 1205.
Website: envoytextiles.com
Envoy Textile has World's very first LEED Certified Platinum Denim Manufacturing Facility. The 100% export-oriented company started its commercial activities in 2008. The principal Denim Facility in Bangladesh that utilizes Rope Dyed Technology, Envoy, has a creation limit of 4.5 million yards every month. The company has a spinning facility capable of producing 62 tons of yarn daily. The Company has specific awards like- LEED Certified. President's Award for I.D., National Environment Award, Seven times winner of National Export, Three times winner of National Award by ICSB, and also more.
Envoy Textiles operates on sustainable production processes, such as fibers from sustainable sourcing like Organic, PCW, BCI, etc., Ozone finishing process which reduces environmental impact, Aero Finish to enhance fabric stretching with durability, state-of-the-art Effluent Treatment Plant (ETP) saving 100 million liters of natural water every year, E-Lab which is equipped with environment-friendly Laser and Ozone Wash machines, and many more.
2. Mithela Textile Industries Limited
Office Address: Tower of Siaam, L-12, Sector-3, Jashim Uddin Road, Uttara, Dhaka-1230.
Website: mithelagroup.com
The Mithela Group's Mithela Textile Industries Limited, founded in 2002, is a leader in the environmentally friendly textile production sector. The USGBC awarded the sector a prestigious designation in 2018 called the "LEED Platinum Testimony" for solid-colored woven materials that emit toxins that could harm the environment surrounding the industry.
Mithela Textile Industries Limited is concerned about its employees. From installing the latest ventilation unit to protecting the factory premises from Thunder, they have taken every possible step to make it easier for employees to work. They take pride in saying that they are one of those few factories that concentrate on energy conservation. They have a Caustic Recovery Plant (CRP) and they use Fuel-saving Gas Boilers and Generators that can transform heat energy into steam energy.
Corporate Office Address: Sam Tower, Level-4, Road-22, Gulshan-1, Dhaka-1212.
Website: urmigroup.com.bd
One of Bangladesh's top producers of ready-to-wear, Urmi Group is actively setting new benchmarks for growth, innovation, and manufacturing performance. They have the technology, the goods, and, most crucially, the correct attitude and skilled workforce to achieve 100% client pleasure. By providing their valued clients with the greatest combination of quality, efficiency, and productivity since the company's founding in 1984, we have established various benchmarks and milestones for future generations.
By determining their unique demands and converting them into high-quality solutions, they are dedicated to achieving complete client satisfaction. Urmi Group has developed its guiding principles for Bangladesh's future green apparel sector as part of its continuous improvement (CI) program. UHM can achieve its objectives more successfully by being clear about the company's purpose and mission. Makes 35 tons of fabric and 2,50,000 pc of apparel daily.
Employs over 13000 people. Over 500 professionals from various disciplines. Total investment exceeds US$ 80 million. Annual Export and total Turnover US $228 million in 2021. Oeko-Tex & GOTS certified. Textile lab accredited by Marks & Spencer, Puma, Decathlon, H&M, ISO 17025.
To read more InCAP Ranking, Please Click Here!