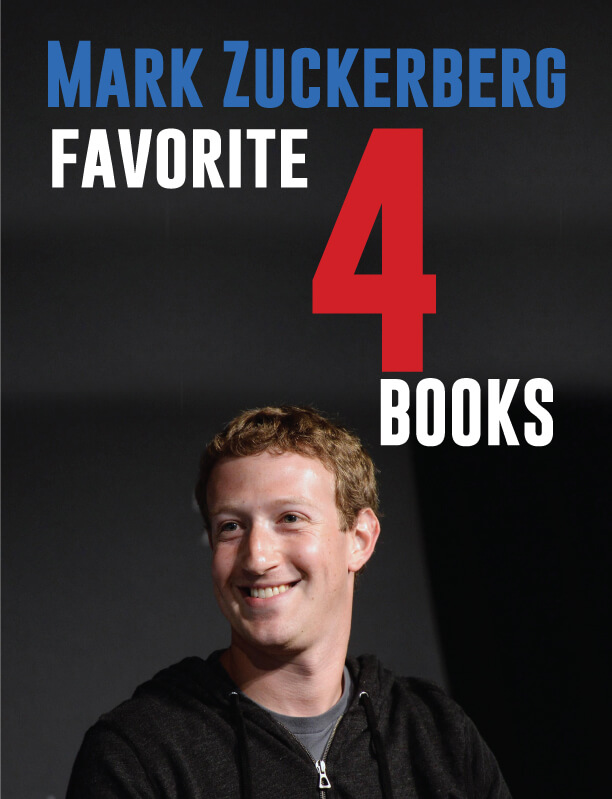 We have put a list of Mark Zuckerberg's four favourite books that he thinks everyone should read those. Let's find out what are actually his favourite books.
The Rational Optimist: How Prosperity Evolves
By
Matt Ridley
The Rational Optimist is a 2010 popular science book by Matt Ridley, author of The Red Queen: Sex and the Evolution of Human Nature. The book primarily focuses on the benefits of the innate human tendency to trade goods and services. Ridley argues that this trait, together with the specialization linked to it, is the source of modern human civilization, and that, as people increasingly specialize in their skill sets, we will have increased trade and more prosperity.
About Author
Matt Ridley's books have been shortlisted for six literary awards, including the Los Angeles Times Book Prize (for Genome: The Autobiography of a Species in 23 Chapters). His most recent book, The Agile Gene: How Nature Turns on Nurture, won the award for the best science book published in 2003 from the National Academies of Science. He has been a scientist, a journalist, and a national newspaper columnist, and is the chairman of the International Centre for Life, in Newcastle, England. Matt Ridley is also a visiting professor at Cold Spring Harbor Laboratory in New York.
Review
"The chapters tracing the human story from 50,000 years ago through the seventeenth century are themselves worth the price of admission, with vivid storytelling illuminating the huge role of markets and trade in material progress…Read The Rational Optimist for its fascinating history of trade and economics." — New York Times Book Review
"A superb book…Elegant, learned, and cogent…a far-reaching synthesis of economics and ecology, a triumphant new demarche in the understanding of wealth and poverty…Inspiring." — George Gilder, National Review
"A very good book…a rich analysis…Ridley is a cogent and erudite social critic…He bolsters his argument with an impressive tour of evolutionary biology, economics, philosophy, world history." — Washington Post
"A fast-moving, intelligent description of why human life has so consistently improved over the course of history, and a wonderful overview of how human civilizations move forward." — John Tierney, New York Times
"Chock-full of in-your-face challenges to conventional wisdom…Ridley is a sworn enemy of Cassandras and Chicken Littles. In The Rational Optimist, he covers 200,000 years of human history to make a compelling case that over the millennia poverty declined, disease retreated, violence atrophied, freedom grew and happiness increased." — The Oregonian (Portland)
"Ridley eloquently weaves together economics, archeology, history, and evolutionary theory…His words effortlessly turn complicated economic and scientific concepts into entertaining, digestible nuggets." — Barrett Sheridan, Newsweek
The New Jim Crow: Mass Incarceration in the Age of Colorblindness
By
Michelle Alexander
This book argues that the U.S. criminal justice system is being used as a contemporary system of racial control even as it adheres to the principle of colorblindness. The author states that despite the election of Barack Obama, the United States has not ended the use of racial caste, instead it has merely redesigned it by targeting Black men through the War on Drugs and the decimation of communities of color. She argues that mass imprisonment of the poor and minorities has exposed the racial and class bias by American politicians and Black leaders, respectively. She notes that the basic structure of legalized discrimination in today's society hasn't changed but instead the language used to justify it has. In today's era of colorblindness, race is no longer used to justify discrimination, exclusion, and social contempt. Instead, officials use the criminal justice system to label persons of color as "criminals" and then they use this label to continue to use old forms of discrimination: employment discrimination, housing discrimination, denial of the right to vote, denial of educational opportunity, denial of food stamps and other public benefits, and exclusion from jury service.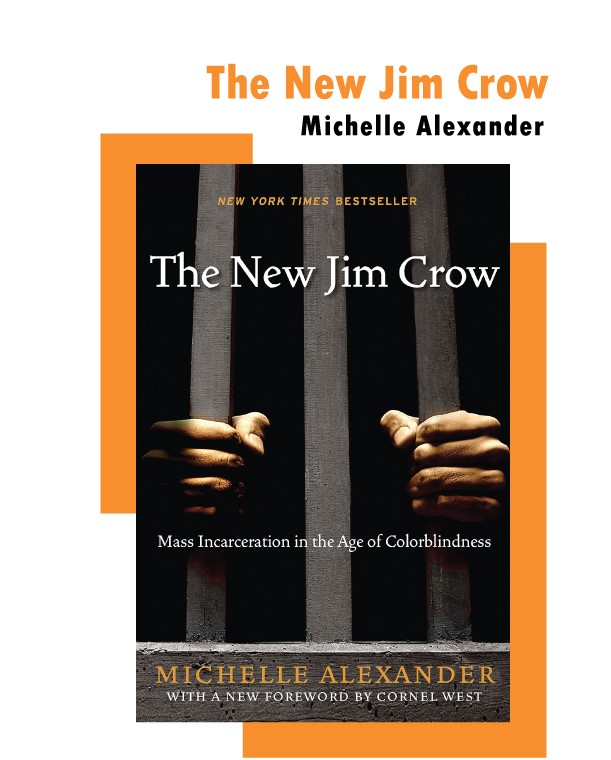 About Author
Michelle Alexander is an associate professor of law at Ohio State University and holds a joint appointment at the Kirwan Institute for the Study of Race and Ethnicity. Formerly the director of the ACLU's Racial Justice Project in Northern California, Alexander served as a law clerk for U.S. Supreme Court Justice Harry A. Blackmun. Cornel West is the Class of 1943 University Professor at Princeton University.
Review
Devastating. . . . Alexander does a fine job of truth-telling, pointing a finger where it rightly should be pointed: at all of us, liberal and conservative, white and black. — Forbes
Alexander is absolutely right to fight for what she describes as a "much-needed conversation" about the wide-ranging social costs and divisive racial impact of our criminal-justice policies. —Newsweek
Many critics have cast doubt on the proclamations of racism's erasure in the Obama era, but few have presented a case as powerful as Alexander's. — In These Times
Carefully researched, deeply engaging, and thoroughly readable. — Publishers Weekly
A call to action for everyone concerned with racial justice and an important tool for anyone concerned with understanding and dismantling this oppressive system. — Sojourners
Why Nations Fail: The Origins of Power, Prosperity, and Poverty
By
James A. Robinson & Kamer Daron Acemoğlu
Why Nations Fail: The Origins of Power, Prosperity, and Poverty, first published in 2012, is a book by economists Daron Acemoglu and James Robinson. Daron Acemoglu and James Robinson conclusively show that it is man-made political and economic institutions that underlie economic success (or lack of it). Korea, to take just one of their fascinating examples, is a remarkably homogeneous nation, yet the people of North Korea are among the poorest on earth while their brothers and sisters in South Korea are among the richest. The south forged a society that created incentives, rewarded innovation, and allowed everyone to participate in economic opportunities.
The economic success thus spurred was sustained because the government became accountable and responsive to citizens and the great mass of people. Sadly, the people of the north have endured decades of famine, political repression, and very different economic institutions—with no end in sight. The differences between the Koreas is due to the politics that created these completely different institutional trajectories.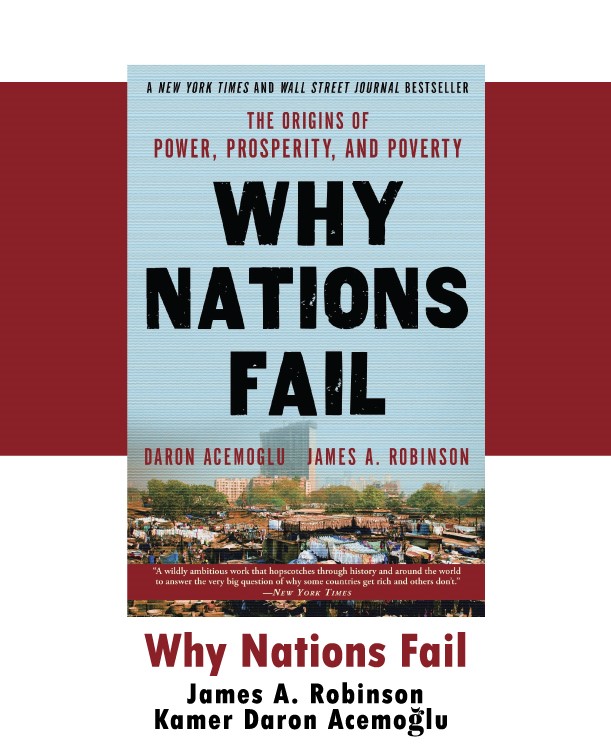 About Author
James A. Robinson, a political scientist and an economist, is one of 8 current University Professors at University of Chicago. Focused on Latin America and Africa, he is currently conducting research in Bolivia, the Democratic Republic of the Congo, Sierra Leone, Haiti and in Colombia where he has taught for many years during the summer at the University of the Andes in Bogotá.
Kamer Daron Acemoğlu (born September 3, 1967) is a Turkish-born American economist who has taught at the Massachusetts Institute of Technology (MIT) since 1993. He is currently the Elizabeth and James Killian Professor of Economics at MIT. He was named Institute Professor in 2019.
Review
"Should be required reading for politicians and anyone concerned with economic development." —Jared Diamond, New York Review of Books
"…bracing, garrulous, wildly ambitious and ultimately hopeful. It may, in fact, be a bit of a masterpiece."—Washington Post
"For economics and political-science students, surely, but also for the general reader who will appreciate how gracefully the authors wear their erudition."—Kirkus Reviews
"This is an intellectually rich book that develops an important thesis with verve. It should be widely read." —Financial Times
"A probing . . . look at the roots of political and economic success . . . large and ambitious new book." —The Daily
The End of Power: From Boardrooms to Battlefields and Churches to States, Why Being In Charge Isn't What It Used to Be
By
Moisés Naím
The book's overall theme points out while it is becoming easier to get power, it is also becoming harder to use it to control others and harder to keep it once you have it.
Naim suggests that globalization, economic growth, a growing global middle class, the spread of democracy, and rapidly expanding telecommunications technologies have changed our world. He says these developments have created a fluid and unpredictable environment which has unsettled the traditional dominions of power.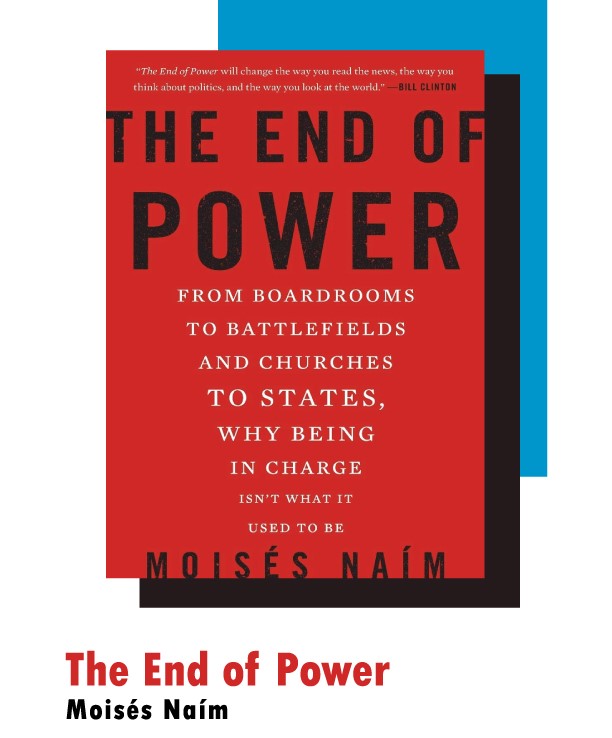 About Author
Moisés Naím has been called "one of the world's leading thinkers" (Prospect Magazine) and has been ranked among the top 100 global thought leaders by the Gottlieb Duttweiler Institute of Switzerland. He is a distinguished fellow at the Carnegie Endowment for International Peace, an internationally syndicated columnist and a best-selling author of 14 books, including "The End of Power" and "Illicit". In 2013, "The End of Power" was selected by the Washington Post and the Financial Times as one of the best books of the year. He received the prestigious Ortega y Gasset Journalism award and, in 2018, won an Emmy award for his television program "Efecto Naim".
Review
"The End of Power will . . . change the way you look at the world." — Bill Clinton
"Extraordinary." — George Soros
"Moisés Naím's The End of Power offers a cautionary tale to would-be Lincolns in the modern era. Naím is a courageous writer who seeks to dissect big subjects in new ways. At a time when critics of overreaching governments, big banks, media moguls and concentrated wealth decry the power of the '1%,' Mr. Naím argues that leaders of all types–political, corporate, military, religious, union–face bigger, more complex problems with weaker hands than in the past."―Wall Street Journal
"This fascinating book…should provoke a debate about how to govern the world when more and more people are in charge."―Foreign Affairs
"Naím produces a fascinating account of the way states, corporations and traditional interest groups are finding it harder to defend their redoubts…. (He) makes his case with eloquence."―Financial Times